New German Ambassador to SKN pleased with new assignment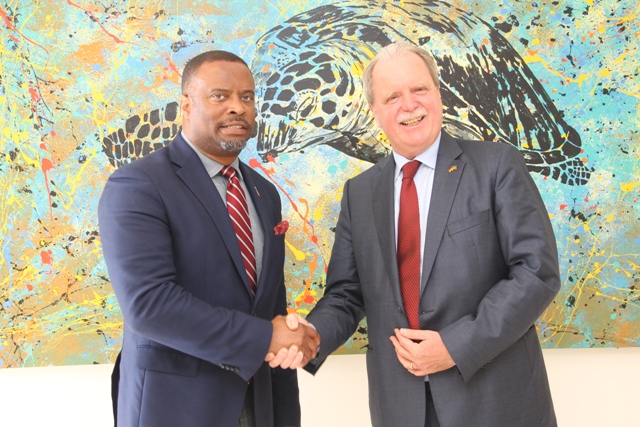 NIA CHARLESTOWN NEVIS (May 28, 2018) — His Excellency Holger Michael, the Federal Republic of Germany's new Ambassador to St. Kitts and Nevis, said he was pleased with his new assignment which promises to be an easy one based on the existing relations between his country and St. Kitts and Nevis.
The Ambassador was at the time paying a courtesy call on Hon. Mark Brantley, Minister of Foreign Affairs in St. Kitts and Nevis and Premier of Nevis at his Pinney's Estate office in Nevis on Thursday May 24, 2018.
"I am very proud about this assignment and it will be a very pleasant and easy job because…we enjoy an excellent relationship for many, many years and to intensify it and build it further…We have a very close cooperation in the area of protection against climate change and the consequences of climate change.
"We in Germany are working together with your esteemed country in the United Nations. We are working together regionally with the European Union together with the Caribbean Community (CARICOM) and we are working together bilaterally, to improve and to increase resilience of the Caribbean countries against the consequences of climate change," he said.
The Ambassador also spoke of Germany's cooperation with the Federation through the Organisation of Eastern Caribbean States (OECS) and the areas which his country is providing support.
"We are very proud to have a very good cooperation with CARICOM and via CARICOM at the OECS with your country. We are particularly cooperating in the area of protection of marine resources, environmental challenges and as you mentioned, we were glad to receive some of your diplomats and also some of your sports football trainers for further training in Germany.
"So we have a very vast; very round cooperation and I am happy and glad to continue to work with this bases," he said.
In welcoming the Ambassador, Hon. Brantley acknowledged the long-standing and cordial relationship between Germany and St. Kitts and Nevis.
He said he was always pleased to welcome diplomats to the Nevis part of the twin island of St. Kitts and Nevis and thanked Germany for the assistance it has given to the Federation over the years.
"I am always happy to welcome diplomats to this part of the Federation…I welcome you and I am delighted to have you and I will want you to convey Your Excellency, to your government, our love and appreciation for their strong support and the strong relationship that we have enjoyed over these past many years," he said.