Newcastle Airport staff say simulation exercise frightening but worthwhile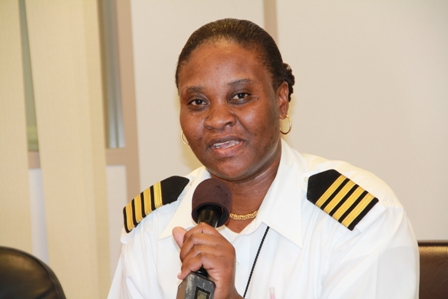 NIA CHARLESTOWN NEVIS (JUNE 27, 2012) —
Personnel at the Vance Amory International Airport in Newcastle were happy to see Tuesday June 19th go away but the strong lessons they learnt and their traumatic memories of the event will remain with them they say, giving them a better understanding of what they would be required to do, if there was a hostage situation and or plane crash at their place of work in the future.
In an interview with the Department of Information one day after the exercise some stakeholders shared their experience but all concluded in the end it was a learning experience.
Customs Supervisor at the Airport Mrs. Ianson Slater said it was a frightening moment for her from the time she received a call at 9:13am from one of her officers who told her that they were being held hostage by some gunmen. Her reaction was one of disbelief.
"I asked 'you serious?' they say for sure they serious. I immediately called my boss and then I called the Newcastle Police Station, after trying about five times to remember the number. I proceeded to the airport very carefully.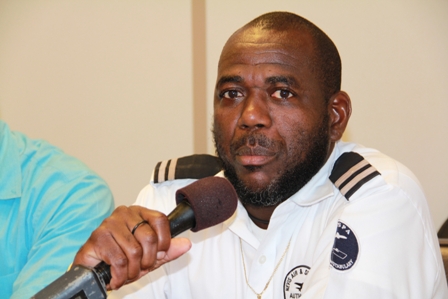 "I parked my vehicle next to the old supermarket and because they had called me that meant that they had some kind of contact by cell phone so I started to BB [blackberry messenger]. I gave some encouraging words like 'stay calm', 'be cool', 'cooperate as much as possible', "anything they ask of you do it', I told them that we were doing our best to get them out safely and as information became available, like the negotiator, I told them that presently they are some negotiations with the hostage taker," she said.
Mrs. Slater explained that because she was not at the Airport when the situation began, she was forced to be at the Emergency Operations Centre (EOC) where she was able to made decisions related to the situation. One such decision was to call in officers who were off duty that day and they responded in quick time.
However, she said in the end she was pleased she was able to play her part in the exercise.
"If it is to happen in real life, I don't think that we will handle it as good as we want to but moving from here forward, we see a lot of things that we can improve upon and training would help us to get there," she said.
Port Corporal Velie Maynard of the Nevis Air and Sea Ports Authority (NASPA) attached to the Vance Amory International Airport was another who was interviewed.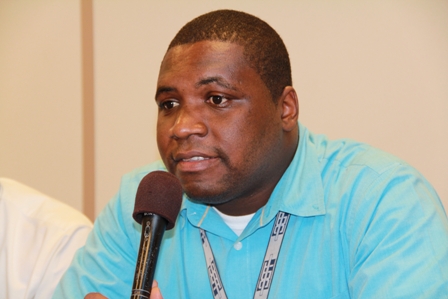 "To be frank, I would say it was nerve racking for me when I first realised what was happening but in responding to hearing bullets being fired at the airport, doing what a supervisor should do, I was held hostage. So after being held hostage, my part was basically over until I was lucky enough to have a phone that they didn't take from me.
"Trying to call my boss at the time, I could not remember because of how frightened I was. So I proceeded by calling one of my sub officers who was at the time, I was not aware, had his hand full dealing with the plane crash at the main gate. So he responding to a plane crash and hearing about hostage he got disoriented too," he said.
On hindsight, Corporal Maynard said he learnt much from the experience but there was room for improvement.
"I basically gathered from this that there is room for improvement and a lot of improvement. We can only take this as an example and move from strength to strength looking at the parts where we would have faltered
"There are a lot of things that need to be put in place for things to be much better at the airport. We intend to move forward and get everything in place and in a quick time trying to minimise people losing life and we [NASPA] losing property," he said.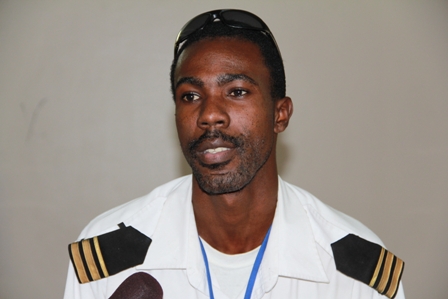 TDC Airlines Supervisor Mr. Nigel Julius described his experience as very frightening as he spoke to what occurred at his office.
"My experience was very frightening. I must say I was in my office doing my business when I was attacked by some gunmen. They rushed into the office and they held me at gunpoint and told me 'get out!' and I was like, what's going on here?
"After being held at gun point I had no other choice but to do what they said. They took me to an area where they had hostages held. At first I was like what is going on here? What is going on here? I just complied with everything they told me to do. It was in the end, I found out it was an exercise. I did not have any knowledge of the exercise at that time, so it was very frightening for me at that time," he said.
Regarding the Airline's response to the hostage situation, Mr. Julius explained that because he was held hostage his hands were tied therefore the airline could have done nothing at the time and was unable to communicate with its stakeholders.
In terms of the plane crash, he said a representative from the Airline should have been available and another should have been present at the EOC but no one could since they were all held hostage.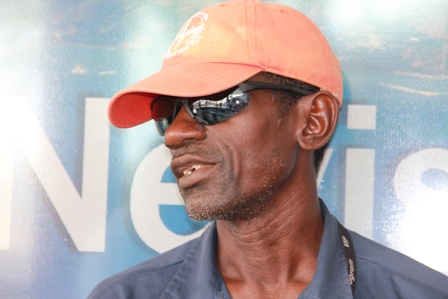 However, he thought the experience a good one.
"Good in terms of you learnt where you can improve in the future and also you learnt that when a situation does happen like this, what is there to be done, who is there to be called and in the future we will handle this better than we did," he said.
Customs Officer Keston Herbert was at the time in his office when he heard the commotion and looked out. He soon found himself held captive but was bound hands and feet and forced to lay face down on the floor by his captors when he tried to escape in an attempt to notify his superiors. He told the Department of Information when the simulation began he felt a bit scared but realised what was going on.
"I was a bit scared at first but after I realised it was an exercise I kind of calm myself and did what we were prepared to do because we had some preparations. You know what to do in a situation like that, so I did what we were supposed to do in the event that that situation happened but it was a good experience because something like that can happen for real, so it was a good experience, I am glad how it came off actually.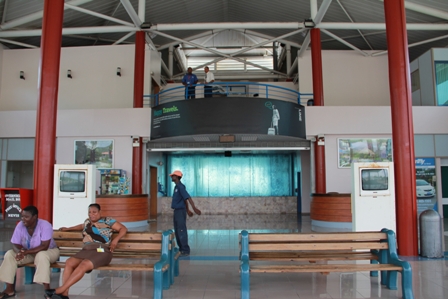 "We were not 100 percent prepared but it kind of changed our mindset now that this thing is very important because we can get a terrorist attack in Nevis at any time so it's best to be prepared as best as possible in the event that this does happen. So my experience overall was good," he said.
NASPA's Maintenance man Mr. Glenroy Herbert had the scare of his life. He told the Department of Information that he had to be taken to the Alexandra Hospital because he became very frightened when he heard the gunshots and saw the "long guns" in the air.
"I was so frightened I had to go hospital. Me heart was beating bad and me head was hurting me…I wasn't feeling good yesterday. I thought it was a good exercise but nobody told me nothing," he said.