NIA plays leadership role in development of Nevis Culture, says Minister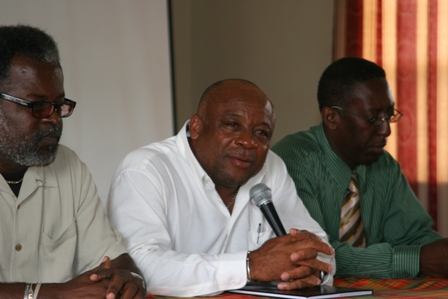 Minister responsible for Culture in the Nevis Island Administration Hon. Hensley Daniel responds to questions at the Press Conference. He is flanked by (l) Chairman of the Cultural Foundation and also of Culturama 2010 Mr. Halsted "Sooty" Byron and (r) Manager of Festivals Mr. Antonio "Abonaty" Liburd
CHARLESTOWN NEVIS (July 05, 2010) — Minister with responsibility for Culture on Nevis Hon. Hensley Daniel said the Nevis Island Administration (NIA) was mindful of its leadership role in the development of the island's culture.
The Minister's comment came on Friday when he delivered remarks at a press conference to launch the activities which led to the 36th anniversary of Culturama, the island's leading cultural activity.
He said the Festival was vital to the economy of Nevis and it was valuable in the perseveration of the island's culture
"We know that the culture of the country is to be taken very seriously. I have said repeatedly it is culture that makes China great, it is culture that makes America great and it is culture that allowed Britain to colonise the rest of the world where the sun never used to set on the British Empire.
"So we have to so develop, preserve and market our culture so that it brings us the kinds of economic, social and psychological returns that we would be proud of and that the other countries have had themselves," he said.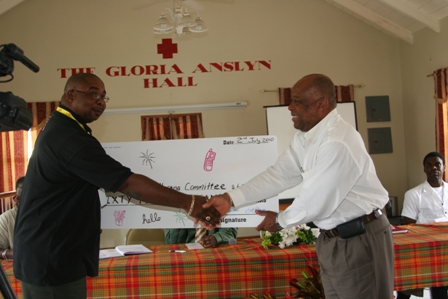 (L-R) Senior Manager of LIME Nevis Mr. Jerome Rawlins hands over a platinum sponsorship cheque for Culturama of EC$65,000 to Culture Minister Hon. Hensley Daniel
The Culture Minister noted that the NIA looked forward to the time when Culturama would become self sufficient and no longer would the Government's Treasury have to carry on the financial burden. However, he said that time would be a matter for the cooperate and civil community.
Notwithstanding, Mr. Daniel registered his gratitude to the Cooperate Community for what he said was their sustained support for the festival over the years.
"I want to commend the cooperate community for its engagement with Culturama. Culturama is a partnership with as many people as possible – those in the cooperate community, those in civil society and those at all levels of the society.
"What we seek to do through Culturama is to build on those partnerships and expand them so that we could have a Culturama where every single man and woman feels himself instinctively to be a part of it. So I want to thank the cooperate community for its involvement and I say to you that we fully appreciate your contribution to Culturama and we look forward to your continued support," he said.
However, Mr. Daniel lamented the lack of support from most food and drink vendors who over the years continued to profit from Culturama but gave nothing in return.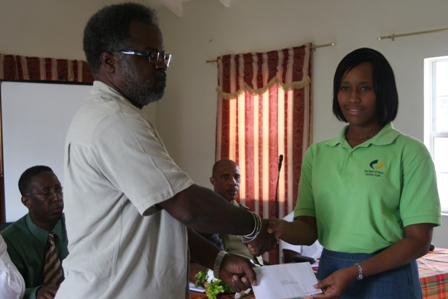 (L-R) Chairman of the Nevis Cultural Foundation and also Culturama 20120 Mr. Halstead Sooty Byron received sponsorship cheque from Mrs. Bronte Swanston Hendrickson on behalf of the Bank of Nevis
"I have said repeatedly that the people who sell food and drink, they do extremely well during Culturama and I have not seen them in any significant way giving sponsorship…My understanding is that we have some 30 odd people who are registered for booths and that has nothing to do with those who will pitch their tents on the road on J'Ouvert morning and on the Last Lap. I of course have to defer to the Carib Brewery they have of course been our very loyal and committed sponsor over the years.
"So on one hand there is a group of people who are lining up and have already began to prepare for Culturama. I see increase applications for Food Handlers Permits for Culturama and maybe I will have to increase. I need some direct flow from the food sector, I don't know that we feel them enough in Culturama," he said.
The Culture Minister used the opportunity to thank all those involved in the various sub committees and the participants. He also urged public support for the police.
"I urge support for the police who will be here to help us and I want to thank them for coming on board with us from the very beginning and I would urge the public to corporate with the police and take directions from them since they have our very best interest at heart," he said.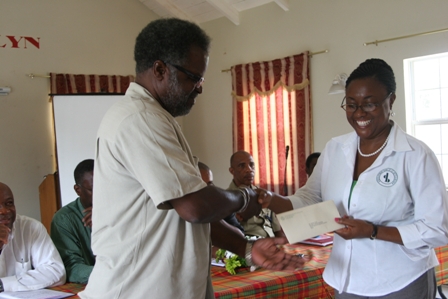 (L-R) Chairman of the Nevis Cultural Foundation and also Culturama 20120 Mr. Halstead Sooty Byron received sponsorship cheque from Mrs. Alexa Pemberton on behalf of Development Bank of St. Kitts and Nevis
Among those present at the Press Conference were Culturama Patron 2010 Mr. Eugene "Cannon" Pemberton, reigning Calypso Monarch I Soursop and Culturama 2010 Slogan contest winner Ms. Linet Farrell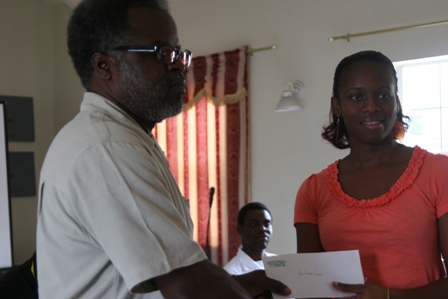 (L-R) Chairman of the Nevis Cultural Foundation and also Culturama 20120 Mr. Halstead Sooty Byron received sponsorship cheque from Ms. Lyndis Francis on behalf of Beyond Homes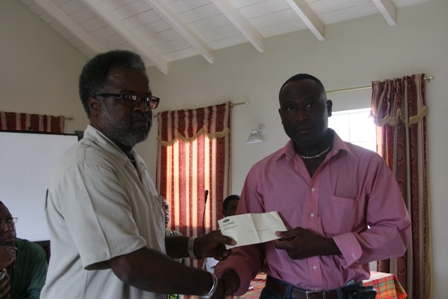 (L-R) Chairman of the Nevis Cultural Foundation and also Culturama 20120 Mr. Halstead Sooty Byron received sponsorship cheque from Mr. Elvis Hamilton on behalf of Dan Backhoe Trucking and Ready Mix Services