NIA signs agreement with Northern Pointe Development Ltd for construction of Wyndham Grand resort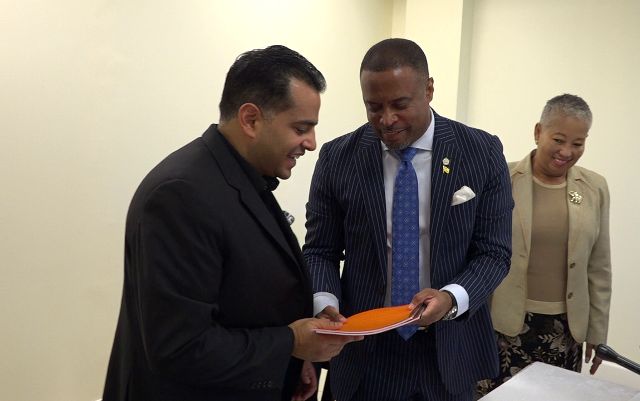 NIA CHARLESTOWN NEVIS (December 06, 2018) — Hon. Mark Brantley, Premier of Nevis, believes the people of Nevis are looking forward to the start of construction works with great anticipation for a major hotel development at Potworks in the Parish of St. James'.
His comment came moments after an agreement was signed between the Nevis Island Administration (NIA) and Northern Pointe Development Ltd. at Cabinet Room on December 05, 2018, paving the way for the construction of a proposed Wyndham Grand resort at Long Haul Bay on Nevis.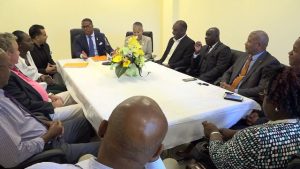 "This has been a very long process. It has been, I think, a lot of back and forth as we have tried to come to an agreement as to concessions and the like that both parties can live with. I feel that we have tried to negotiate in good faith, perhaps it has taken longer than it should have but nevertheless we are here today, and we are happy that we are able to sign this.
"It's a good, if you will, advance Christmas present that the people of Nevis can see some forward movement in relation to this very significant project…I think the people of Nevis are looking forward with great anticipation to the start of this project," he said.
The Premier also expressed hope that the project would come to fruition.
"I hope I'm not presumptuous because I have been told that by the first quarter of next year we should see some movement. We have signed a lot of these agreements and so it is important for us to move it off the table and on to the ground at Potworks so that is why we are investing.
"We are willing to be flexible in terms of various concessions that have been sought but the objective really is to get the project moving," he said.
Mr. Brantley registered his gratitude to all those involved in the project including Dr. Cardell "Bal" Rawlins and Mr. Morrice Tyrell, the local representatives of Northern Pointe Development Ltd.
Mr. Vishal Khann, President and Chief Executive Officer of Northern Pointe Development Ltd., who signed the agreement stated that they are confident moving forward with the project.
"We have been eager to begin this project for many months now and it's been a long road…We feel very confident that moving forward this project is going to be a great success and we would be able to provide to the island as we have promised and look forward to working and growing with you guys for the next few years and beyond during operations," he said.
The Wyndham Grand Nevis, will be constructed on a 30-acre beachfront property owned by Northern Pointe Development Ltd. and managed by the Wyndham Hotel Group.
On completion, the five-star luxury resort will comprise of 170 two- and three-bedroom suites, condominiums and villas, a private beach club, five dining areas, infinity pools, meeting spaces and more.
Also present at the signing ceremony were Mr. Colin Dore, Permanent Secretary in the Ministry of Finance who signed the agreement with Premier Brantley; Area Representative for St. James' Parish Hon. Alexis Jeffers; Hon. Eric Evelyn; Hon. Spencer Brand; Hon. Hazel Brandy-Williams; Hon. Troy Liburd; Mr. Stedmond Tross, Cabinet Secretary; Mrs. Hélène Anne Lewis, Legal Advisor in the NIA; Dr. Cardell "Bal" Rawlins and Mr. Morrice Tyrell, Directors of Northern Pointe Ltd.; Ms. Krysta Liburd, Attorney at Liburd  and Dash LP; and Mr. Daniel Freeman, Marketing Director of Northern Pointe Ltd.