NIA Will Not Stop Until Satisfied With Housing Stock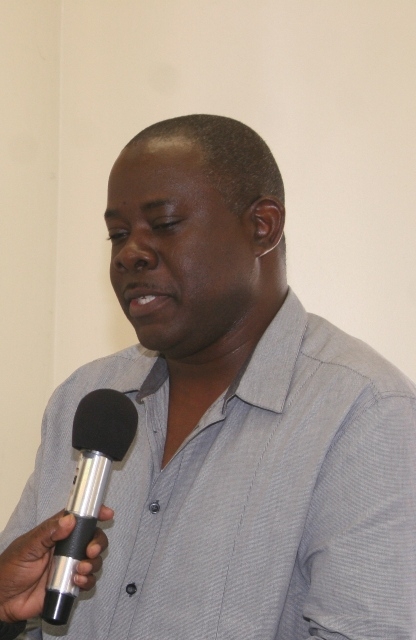 Minister of Housing and Land in the Nevis Island Administration [NIA] the Honourable E. Robelto Hector
NIA-CHARLESTOWN, NEVIS (January 17TH, 2011) — "As a government, we will not stop until we are satisfied with the housing stock on this island," said the Honourable E. Robelto Hector during an interview with the Department of Information just days before the official opening of the Cherry Gardens Housing Development.
Minister Hector, who spoke with pride from his Charlestown office, said the Nevis Housing and Land Development Corporation [NHLDC], through his Ministry of Housing and Land, had begun facilitating housing developments in the Hamilton, Maddens and Bath Village areas adding that the village of "Cotton Ground would be coming on stream."
"It is some eight or nine project areas we've done within this country and truly, our aim is to satisfy Nevisians in terms of their housing needs," he said.
As he reflected on the infant stage of housing development on Nevis, Minister Hector spoke of the numerous plans "put forward" by a number of housing ministers across the region. While many of their housing dreams never materialised, the Housing Minister said he was pleased that, with the assistance of his colleague ministers and the NHLDC, Nevis' housing development was the envy of the Caribbean.
"We have said to you that we would deliver 300 homes within our five-year term and truly that has been realised," he said.
The island's "housing deficit of about 700 homes" as highlighted by Minister Hector, has fueled his ministry's drive towards constructing more affordable homes for the residents of Nevis.
"Many others didn't realise that and we are just about halfway in terms of bringing that deficit down so from here on I can tell you that the government is committed," he said.
While on one hand, the housing minister was thrilled about advances in his ministry, on the other hand, he was disgusted at the numerous "hurtful comments" that he said were made about the Cherry Garden Housing Development.
"I am not sure today if the persons in Cherry Garden have yet transferred their vote in terms of being in Cherry Garden so sometimes when you hear that the people of Cherry Garden would have turned their back on the people of NRP; our government, that is not so," the Minister said.
He added that while persons described as "detractors" said "the Cherry Garden Housing Development came into being to pad the list," Mr. Eustace Nisbett Jr. of the NHLDC and Architect Mr. George Hunkins "were delivering."
"Those are things that I recognise in the politics of hate, in the politics of trying to be forward, were said and I am waiting to get a public apology from those on the other side in terms of the negative things that they had to say about Cherry Garden," Minister Hector said.
When asked about the support of his colleague ministers, Minister Hector said he was grateful for their dedication and commitment "from start to finish." He however used the forum to commend the island's Premier the Honourable Joseph Parry for his leadership style.
"My esteemed leader Mr. Joseph Parry: I would always say that I would serve with him, beneath him, around him. He has given us true direction in terms of what it is to be leaders: the education [and] the experience. All of us who serve with him can truly say we are committed to the job and we have delivered," Mr. Hector said.