Physically challenged pupil wows Premier Parry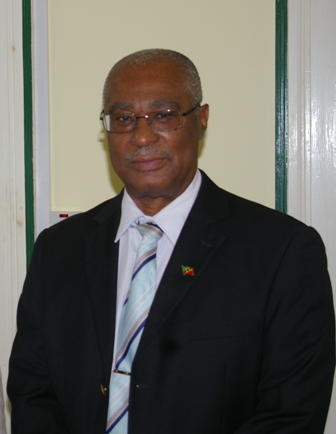 Charlestown,Nevis–(Monday, January 30, 2012)
Premier and Minister of Education, the Hon. Joseph Parry said he was "charmed" by five-year-old physically-challenged pupil, Mr. Dawarney Hicks' determination to learn at the Violet O. Jeffers-Nicholls (VOJN) Primary School. He made the declaration while reporting to the public on his weekly "In Touch with the Premier" radio programme, aired on Choice FM and other radio stations in the Federation.
The Premier visited the two primary schools in the St. James Parish, VOJN Primary and the St. James Primary last week, and while at the former, he met the child who "is very intelligent and very attractive looking, who remembered the Premier, and appeared happy to be among his peers, and to be learning".
"It is a fantastic thing, as Dawarney gave me a sense of achievement," said Premier Parry. "I can't express how satisfied I felt as a human being. This is why on occasions like these, that you get your just reward for public service. It was a fantastic experience."
He congratulated the headmistress, Mrs. Ermileta Elliott and staff for embracing Mr. Hicks, noting that with the help of the government they are putting in certain facilities like a ramp to facilitate the wheelchair-bound student. The child's grandmother is also allowed to be there for support.
"That speaks well of the government, it shows that we are dealing with a progressive government," commented the Premier.
Premier Parry also reported that the School Meals Programme at VOJN is progressing well, benefitting over 80 percent of the pupils.
"Those nutritious meals at this early age, are going to stabilise them and help them for the future – to perform outstandingly, to be strong, healthy and successful Nevisians," said the Premier. He urged parents not only in St. James, but in all areas, to make the sacrifice of paying the four dollars a day five days a week to ensure their children get a good nutritious meal.
"If you don't, you still have to buy a hotdog, you still have to buy a drink, you still have to buy other things, and it could very well come to more than four dollars per day. It is better to make the sacrifice in the interest of your children and their future. We as a government, we have an obligation to make sure that the programme continues," the Premier stressed.
Speaking on the said radio programme, the Premier, who is also the Minister of Finance, said he was very proud of his government's stimulus programme of EC$10 million which was used to rebuild the Charlestown Public Market now named the George Mowbray Hanley Public Market, to construct the kitchen at the Charlestown Primary School, community centres at Cotton Ground, Jessups, Combermere and Fountain, the police station in Cotton Ground, classrooms at the Charlestown Secondary School, and repairs to the roof of the Gingerland Secondary School.