Premier bids farewell to Assistant Commissioner Liburd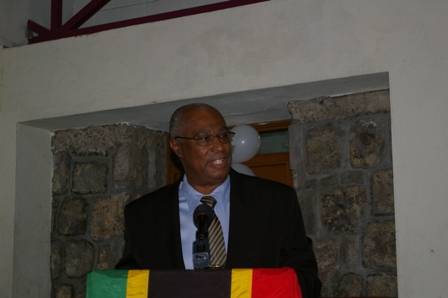 Hon. Joseph Parry the ceremony
(CHARLESTOWN, NEVIS–TUESDAY, NOVEMBER 23, 2010) Premier of Nevis, Hon. Joseph Parry said farewell to Assistant Commissioner of Police (ACP), Mr. Joseph Liburd and applauded his academic achievements at a ceremony held in the Senior Police Officer's honour, ahead of his retirement from the Royal St. Christopher and Nevis Police Force after 33 years of service, on Friday morning at the Charlestown Police Station conference room.
"I taught Mr. Joseph Liburd at school and he hardly talked. He said very little and mainly focused on his work. One can see an example of him being focused, as he studied on his own and received a Bachelors Degree in Criminal Investigations. I want this to be encouragement to all, to continue to educate and continue to elevate yourselves", commented the Premier.
According to Premier Parry, Liburd was one of the many Superintendents that had done a good job in Nevis namely Spooners, Fough, Seabrookes, Stapleton and Morgan who all displayed a tough and caring attitude towards policing in Nevis while they served.
During the ceremony, one speaker said that as a policeman some officers were of the view that they had been dumped on Nevis, as serving on Nevis on many occasions had been looked at as a form of punishment but Premier Parry said that the Nevis Island Administration under his leadership had sought to assist the officers with their stay on the island.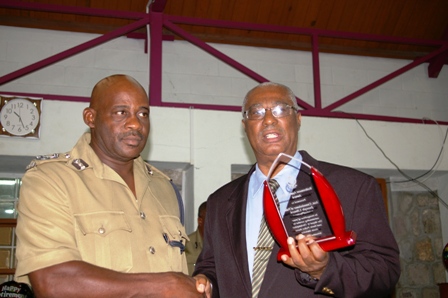 Retired ACP, Mr. Liburd and Premier Parry
"There may be seeds of truth in that statement, however, it has been my duty to make the policemen very comfortable when they are policing in Nevis and this is what I have tried to do," said the Premier.
The Hon. Joseph Parry noted that his Nevis Reformation Party-led government had worked hard to ensure that the police were comfortable by building additional Police Barracks in Butlers and Bath Plain. He added that he had travelled throughout St. Kitts and Nevis and it must be known that the "Bath Plain barracks is the best police quarters in the Federation."
The audience responded with a hearty applause to which the Premier added that Mr. Liburd was leaving too soon because there was a room set up as a suite which could have been used by Mr. Liburd.
"Yes, you have raised the standard Mr. Liburd and thanks for helping to solve the recent incident on St. Kitts which involved a tourist bus being robbed. Thanks to the collaboration of the Police Force, for making the recent arrest so quickly," said the Premier.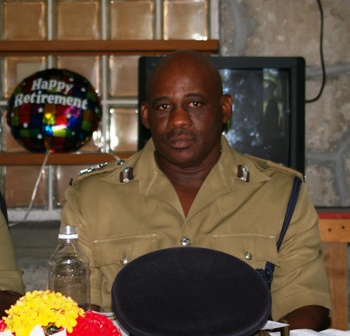 Retired ACP, Mr. Joseph Liburd
After the ceremony, the Premier joyfully presented Mr. Liburd with a plaque in recognition of all his years of dedicated service to the Royal St. Kitts and Nevis Police Force in particular on Nevis.