Premier Brantley leads NIA Cabinet in meetings with senior police officers and private security firms on Nevis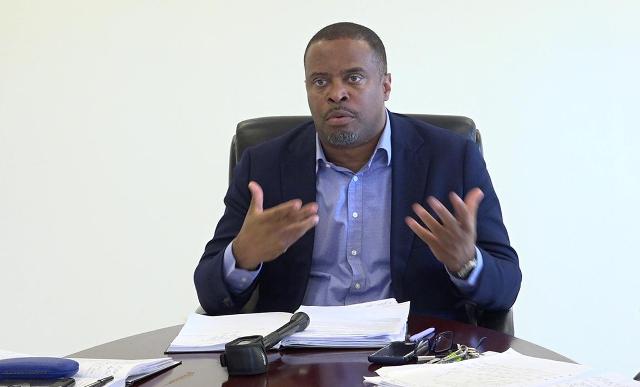 NIA CHARLESTOWN NEVIS (July 23, 2018) — Cabinet members in the Nevis Island Administration (NIA), headed by Hon. Mark Brantley, Premier of Nevis and Minister responsible for Security, met with senior members of the Royal St. Christopher and Nevis Police Force, Nevis Division on July 20, 2018, in keeping with the NIA's commitment to the officers serving on Nevis.
Mr. Brantley noted that the meeting which was held at the NIA conference room at Pinney's, is not a one-off occurrence and going forward it would be held routinely.
"I thought it important to continue this engagement with the police as we seek to address some of the issues on the island in terms of security…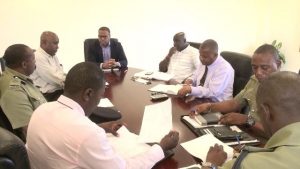 "This administration is fully committed to the police force and fully committed to the men and women that put their lives on the line every day to ensure our safety and security and so these meetings will be a regular occurrence because we intend to engage and consult and ensure that we are on the same page moving forward," he said.
Mr. Brantley explained that security is a fundamental right to those who live on the island and as a consequence the NIA has publicly pledged its commitment to the police and to ongoing dialogue with them to determine how best they could work together to ensure the safety and security of all who call Nevis home.
He used the opportunity to express gratitude to the senior officers and their continued commitment and support. He also asked them to convey the Administration's gratitude to the ranks.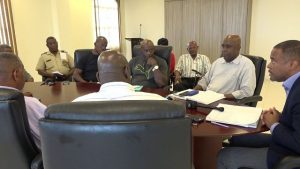 Meantime, later that day, Mr. Brantley accompanied by Cabinet members met with private security firms on the island. He said it was an opportunity to exchange ideas with a sector which augments the work of the police and the military stationed on Nevis and to begin a partnership with the NIA.
"We want, through this meeting, to start the necessary dialogue with the private security firms and to allow them to understand that we are offering a partnership with them, the government and them, to seek to enhance the safety and security of the island…
"I thank them for taking time out of their day to be here with us and to spend a few minutes so we can bounce ideas off each other and hopefully work together with the police as well as the army that is stationed here in Nevis, to assure the people of Nevis that the government and security forces alike are committed to their safety and security," he said.
It is estimated that the private security firms collectively employ more than 100 persons on the island.