Premier of Nevis welcomes all to Culturama 40 celebrations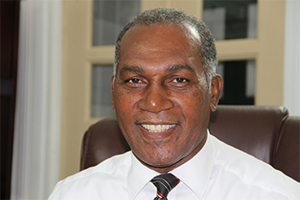 NIA CHARLESTOWN NEVIS (July 30, 2014) — The following is the full text of a welcome address delivered by Premier of Nevis Hon. Vance Amory on July 29, 2014 on the occasion of the Homecoming Celebration for the 40th anniversary of Culturama dubbed "the Caribbean's Greatest Summer Lime"
Fellow citizens, residents and friends of Nevis,
As Premier of Nevis, I am honoured to welcome all of you, returning nationals especially, on the occasion of the Homecoming Celebration as part of Culturama 40 or C40, as it has become known.
I trust and hope that this message finds you in good health, secure environment and truly having a great time for Culturama 2014.
To date, we have had many activities throughout the Culturama celebration, with returning nationals arriving home again and many foreign visitors coming to our shores to participate in what it has become known as the 'Caribbean's Greatest Summer Lime'.
Our island is humming with vibrant activities, colour and creativity. The pulsating and infectious rhythms of our bands: string bands, steel bands and the hi-fi and the calypso and the dance of our young people and our masqueraders continue to engulf the island, as we demonstrate to the world that Culturama 2014 will be the most successful celebration of this festival in our history.
This year's Culturama, to my mind, has already proven to be a buffet of staggering variety that can only be sampled but never totally consumed in its entirety.
At this juncture, I extend welcome to all of our returning nationals. Whether you are a first timer or a regular returnee for Culturama, I say welcome. Whether you are Nevisian by birth or by decent, I also say welcome.
The Homecoming Celebration provides you with the opportunity to reconnect and reacquaint yourselves with the land of your birth and where you have brought your children, your progeny, to get them to understand and to know and to love the land of your birth, this land of beauty called the Queen of the Caribbean.
This Homecoming Celebration is an occasion to celebrate life with family and friends and with the many exciting visitors who have come to celebrate C40 with us. You can rekindle past relationships and past affections and once again, feel the oneness with Nevis, your home.
C40 and the Homecoming Celebration is a time for reflection, healing and for national unity. Your return home offers you a healthy respite from a stressful world, where many have forgotten what it means to just relax and breath slowly.
I entreat you to once again, take a walk along the stretches of our sun kissed beaches. Enjoy the incomparable scenic views and natural landscape that only Nevis can offer. Re-immerse yourselves in our rich local history by visiting our museums and historical sites. Most of all, make this homecoming about family and friends.
I speak here not only of your relatives but also of the entire Nevisian family. Reconnect with your community. Remind yourself of what it feels like to be truly Nevisian. Reawaken the Nevisioness in yourselves.
As always, Culturama is a time of merriment and emotional release. As you celebrate with us, I appeal to you to take every precaution and let maturity, discipline and good sense prevail. Obey and respect the laws of the land, respect the law enforcement agents and act responsibly at all times, even as you act as your brother's keeper and as you let your joy become unconfined and have the time of your life here in Nevis.
I invite all of our returning nationals to come back again and again, ensuring that our Culturama festival remains the greatest summer lime. May all of you have an enjoyable and safe Homecoming Celebration and Culturama C40.
Have a wonderful time and I am sure you will see me in the band somewhere. All the best and God bless you, as you enjoy yourself here in the Queen of the Caribees.
Welcome, welcome, welcome!