Premier Parry and Nevis Island Cabinet view body of the late Dr. Simeon Daniel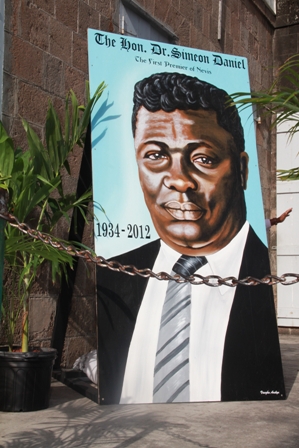 Charlestown, Nevis (Tuesday, June 5, 2012) — Just after seven this morning (Tuesday), Premier of Nevis, the Hon. Joseph Parry along with members of the Nevis Island Administration cabinet viewed the body of the first Premier of Nevis, the late Dr. Simeon Daniel, as it lay in state at the Charlestown High Court.
Dr Daniel's family including wife Sheila, sons, daughters, grand children and close friends were first to view the body. The Premier, Ministers of Government and the general public followed, all wanting to view the body of the man who began serving Nevis as a founding member of the Nevis Reformation Party (NRP) in 1970.
Residents of Nevis have turned out in their numbers, at the Charlestown High Court to view the body of the man who has been dubbed by many as," the Father of Modern Nevis".
Members of the general public were out in the their numbers and have lined up in front of the High Court to show respect to a man who brought much progress to Nevis.
The official funeral service will take place at the St. Thomas' Anglican Church with viewing beginning at 1pm and the funeral service at 2:30pm.
According to the funeral program, the service will be presided by Canon Alston Percival, Rev. Ernest Fleming and Father Alric Francis.
A solo will be sung by Dr. Raymond Rohan and tributes will be done by Premier of Nevis, Hon. Joseph Parry, Deputy Prime Minister- Hon. Sam Condor, Grandson's- Kajay Hodge and Tyler Clarke, among others.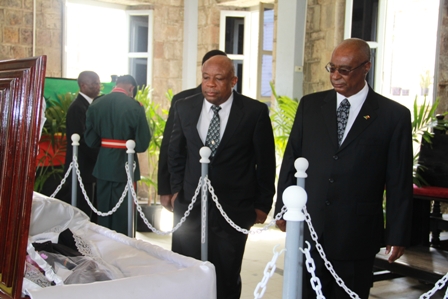 The eulogy will be delivered by former member of the NRP- led Administration under the Hon. Dr. Simeon Daniel, Mr. Victor Jay Martin.
After the Official Funeral Service the burial will follow in the church yard.