Premier Parry urges youth to continue contributions of the last 25 years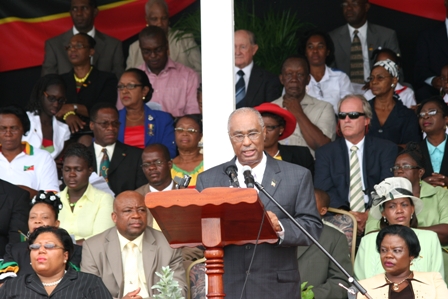 Premier of Nevis, the Hon. Joseph Parry urged his country's young people to resist the desire to delve into bad behaviour, which could undo the hard work of the good contributions of their predecessors. He made the comment during the ceremonial Independence Day Parade at Grove Park on September 19, 2008, to mark the 25th Anniversary of Independence of St. Kitts and Nevis.
 
"I ask that the young people get rid of the guns.  Maybe we should ask Police to have an observed gun amnesty because crime does not pay and Badness is outta style," he said.
 
Mr. Parry also paid tribute to the first Nevis Island Administration (NIA) Cabinet, which comprised of Dr. Simeon Daniel, Mr. Ivor Stevens, Mr. Uhral Swanston, Mr. Arthur Evelyn and Mr. Levi Morton, who he said, "all worked very hard to make Nevis the proud Nation that it is today!"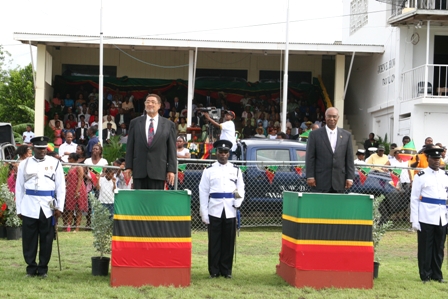 Premier Parry (r) takes the salute with Deputy Governor General Mr. Eustace John (l). They are flanked by senior Police officers at the Parade
During the ceremony, 25 persons were also recognised for their contributions to the island of Nevis.
 
Mr. Clayton Mills was awarded in the area of Law Enforcement; Mr. Ivan Jones and Ms. Maisie Webbe in Public Service; Mr. Osmond Williams was posthumously honoured for Public Transport, Ms. Bernadette Bartlette, Ms. Hazel Byron, Mr. Runako Morton and Ms. Meritzer Williams for Sports; Pastor James Douglas for Religion; Mr. Errol Pemberton for Tourism; Mr. Orville Storrod for Trade and Industry; Mr. Kelvin Swanston for Agriculture; Mr. Jeremiah Herbert for Baking; Ms. Eulalie Francis for Community Service; Mr. Edred Ward for Cooperatives; Ms. Gloria Bartley, Ms. Valarie Liburd and Ms. Alice Swanston for Education; Mr. Eustace Freeman and Mr. Carlton Pinney for Electricity Generation; MS. Ima Stanley-Brookes, Ms. Viola Martin, Ms. Lenore Pemberton and Mrs. Maureen Stapleton for Health and Mr. Orin Perkins for Pharmaceutical Services.
 
Members of Nevis Island Administration Cabinet (front row left to right) Hon. Robelto Hector, Hon. Hensley Daniel, Hon. Carlisle Powell, Legal Advisor Mr. Patrice Nisbett, cabinet Secretary Mr. Ashley Farrell and Advisor Mr. Llewelyn Parris (second row extreme right) pose with the 2008 Awardees.
Mrs. Evelyn was one of many at the Parade showing Nevisian Pride
The Premier singled out young female Olympian Meritzer Williams with special commendations for having conducted herself with dignity, when she represented St. Kitts-Nevis at the just concluded Beijing Olympics.
 
Under cloudy skies and a persistent drizzle, Premier Parry and Deputy Governor His Honour Eustace John inspected colourful contingents from the island's Secondary and Primary schools, the Cadet Corps, the St. Kitts-Nevis Police Force, the Boys and Girls Brigade, the Pathfinders and the Nevis Boys Choral Group among others.
 
The Music for the Silver Jubilee Ceremony was provided by the Nevis Symphonic Band and the Brown Hill Seventh Day Adventist Drum Corps.