Prime Minister Douglas recommits assistance to Nevis after Treasury Building fire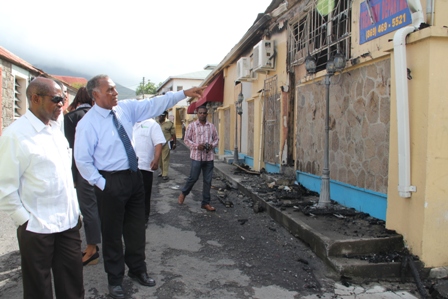 NIA CHARLESTOWN NEVIS (January 24, 2014) — Prime Minister of St. Kitts and Nevis the Right Hon. Dr. Denzil Douglas reaffirmed the Federal Government's commitment to assist Nevis, after a fire gutted the Treasury Building in Charlestown one week ago.
Dr. Douglas who was accompanied by Financial Secretary Hilary Hazel and Comptroller of Inland Revenue Edward Gift said he had initially given the commitment to Premier Amory when he was alerted of the fire in an effort to restore the services to the people of Nevis and St. Kitts speedily.
"The meeting went quite well. I am very pleased that the Premier was able to receive us. I was able to, again, reaffirm the commitment I made when we spoke last week Friday morning, after we learnt of what had happened here in Nevis.
"I believe that the relationship merits that we continue to collaborate and cooperate especially in the area where services for the people of Nevis and St. Kitts obviously had been interrupted. We need to get those services back as quickly as possible and again emphasising our commitment to help," he said.
The Prime Minister explained that he had brought along the other two members of the delegation, since the record keeping of the Inland Revenue Department was also kept in St. Kitts.
"I thought of course that I would bring them along after having some discussions. As you know, the Inland Revenue Department, in particular, we seek to operate at a federal basis and so some of the information that you would have had there also, most likely, would have been in St. Kitts. So that's one good thing that maybe we can look forward to in the future, that there be closer collaboration in this particular area, so that all information is not lost if anything were to go wrong on any of the two sides," he said.
Regarding the Financial Secretary Dr. Douglas explained that they had agreed to immediately mobilise equipment and furniture for the offices affected.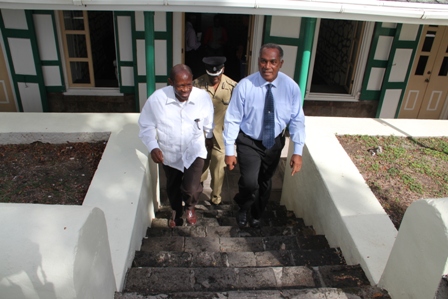 "The Financial Secretary met with me and we had agreed that we would, beginning immediately, to mobilize furniture, equipment. We have the Central Purchasing Unit in St. Kitts. It has a store house, so we always have furniture and equipment and so we said that we would just bring those stocks over to Nevis and start the process," he said.
The Prime Minister also stated that he had come to Nevis with news about his discussions with friendly governments for assistance to Nevis after the fire.
"I also wanted to inform the Premier that I have had some discussions with the Ambassador from Taiwan yesterday and he had also been in touch with the Premier. Both of them had been in communication, so I reinforced the need for some urgent assistance in that regard. I'm sure that by next week we will begin to see things moving in a positive way," he said.