Principal Education Officer Lauds Teachers at 26th Professional Day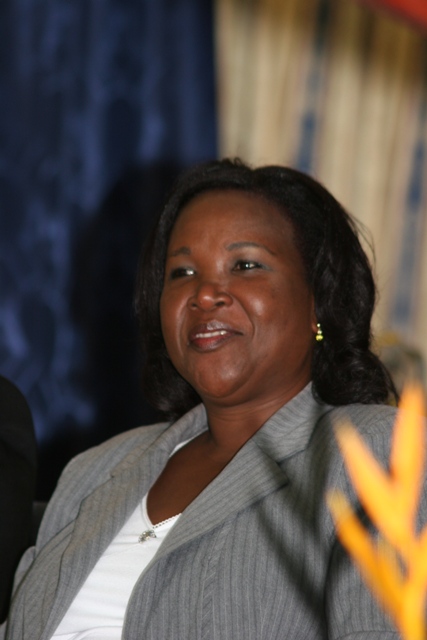 Principal Education Officer Mrs. Lornette Queeley-Connor.
CHARLESTOWN NEVIS (November 4, 2010) — As teacher's month came to an end last week, teachers on Nevis; adorned in suits, ties, heels and much more, gathered at the Eden Brown Church of God, last Friday [October 29th], for the 26th annual observance of Professional Day.
With special focus on "building the future through quality education," Principal Education Officer [PEO] in the Ministry of Education Mrs. Lornette Queeley-Connor addressed the teachers with words of encouragement and deemed it "a pleasure" to greet them.
The elated PEO conferred high commendation on the island's teachers who she described as "brave men and women who had supported and championed the cause of the advancement of the teaching profession."
"Those of us who have been around this long can testify to the fact that it has been a journey wrought with many challenges, but many times more rewarding," Mrs. Queeley-Connor said as she eloquently spoke from the on-stage podium.
She added that the island's teachers had committed themselves to the "sometimes arduous" task of educating Nevis' children.
"We have seen that hard work and dedication played out in the many successes we have recorded over the years," she said as the teachers nodded in agreement.
Mrs. Queeley-Connor encouraged the teachers to continue working toward the enrichment and improvement of what she described as "a wonderful profession" by using their training and combined efforts and talents to the overall benefit of the Nevisian community.
"Those teachers who are average, we will help to become good, those who are already good to become great," she said.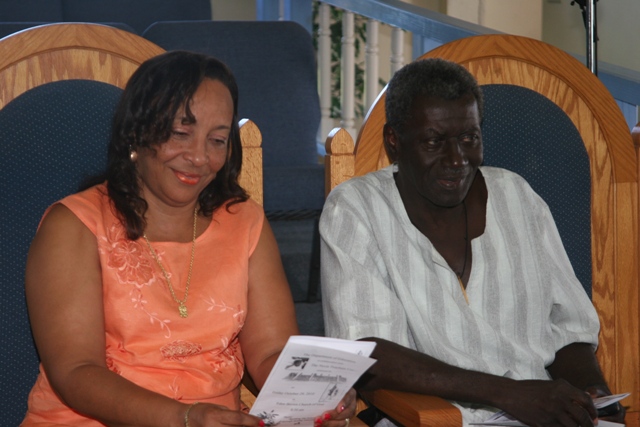 2010 Professional Day honourees Mrs. Brenda Huggins and Mr. Vincent Adams.
Also at last week's ceremony, two long serving teachers; Mr. Vincent Adams and Mrs. Brenda Huggins received appreciative plaques and other trinkets for their years of service to the teaching profession.
Although Mr. Adams retired after teaching from 1977 to 1992 in Zambia, Central Africa, he taught in Nevis at the Gingerland Secondary School from 1992 to 2008. According to him, his proudest moments were when he "catered to the educational needs of students, including adults."
"My proudest moments as a teacher," Mrs. Huggins said "are exemplified in witnessing the vast majority of my students succeeding in school and in their chosen careers." She taught at the Charlestown Secondary School from 1983 to 2006.
Members of the Nevis Island Administration including Ministers of Education and Agriculture the Honourables Joseph Parry and E. Robelto Hector, Advisor in the Ministry of Education Mrs. Christine Springette and Permanent Secretaries Mr. Joseph Wiltshire and Ms. Angelica Elliott attended the ceremony. Federal Minister of Trade, the Honourable Dr. Timothy Harris delivered the feature address.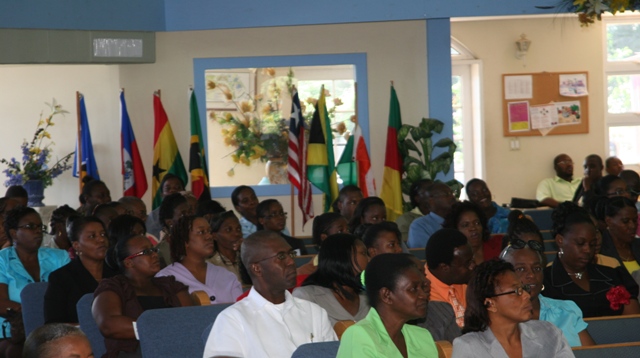 Teachers at Professional Day ceremony 2010.