Public Health officials need public's assistance, says Federation's Chief Medical Health Officer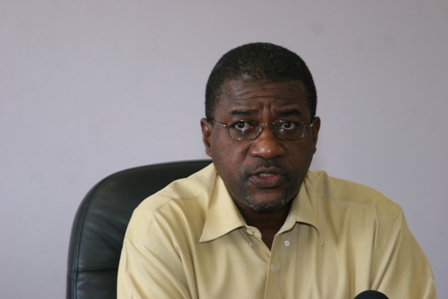 NIA-CHARLESTOWN NEVIS (November 17, 2011) — Public Health Officials in St. Kitts and Nevis need the assistance of the public and the police in their efforts to safeguard the environment. Chief Medical Officer (CMO) in St. Kitts and Nevis Dr. Patrick Martin said it was of critical importance because human negligence continued to enable the proliferation of mosquitoes and rodents on the islands.
He was at the time speaking to the Department of Information on Wednesday November 16, 2011 in the aftermath of a recently concluded workshop on Vector Control Management for Vector Control and Environmental Health Officers in St. Kitts and Nevis
"The first challenge is the indiscriminate dumping of garbage in the environment. Receptacles are collecting water and the mosquitoes continue to proliferate. We will continue to do what we can in terms of collecting and cleaning the environment.
"We need the assistance of the general public to keep their yards and their community clean. This could be a community effort by community groups, schools and churches. We also need the assistance of the Police to intercept persons who are dumping all over the place. This is a matter for policing especially patrolling…so we expect so in this new dispensation," he said.
Another challenge Dr. Martin noted was the small number of Vector Control Officers especially in St. Kitts. He added that there are some vacancies which needed to be filled but would be done as the resources allowed.
The CMO was of the view that persons were deliberately causing harm to the environment, by allowing their vehicles and vacant buildings to lie idle and empty lots to be overgrown especially at a time when there has been a lot of rain.
"Derelict buildings and vehicles are health hazards and also security hazards – a very important point. I am thankful that the Police are making that point also and so Police and Health we will work together to marshal all the resources that we can from within government but we will need the assistance of the general public to apply the necessary people pressure.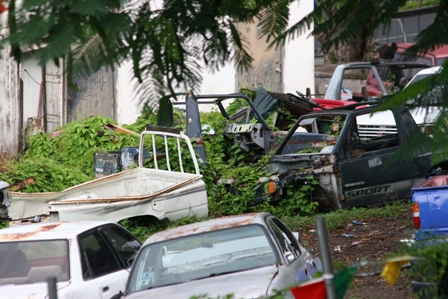 "There is a school of thought that the government should put some new provisions in place for the Public Health Act to enable it to seize abandon buildings and house lots with a little more ease. We will see how that plays out in the next couple of months," he said.
Dr. Martin also made reference to the Public Health Act which needed review in some areas.
"The Public Health Act which dates back to 1969 is fundamentally sound but there are some provisions that need to be updated in relation to prosecution.
"The Environmental Health Officers have pointed out that provisions leading to prosecution are a little bit cumbersome and there is need to enhance them to make them seamless and work is ongoing regard," he said.
In conclusion Dr. Martin said Vector Control was a serious aspect of the stewardship of the environment and stated not only did the Public Health department have to deal with the issue of mosquitoes borne illnesses but also germs transmitted by house flies, cockroaches and rodents.
He said that although they were particularly concerned about dengue fever due to the increasing rainfall brought on by climate change and as a result an expected growth in dengue activity that could have a negative effect on tourism if there was to be an ongoing high level problem of the illness but also the threat of imported cases to the Federation.
"We also host a number of persons at medical schools here who come from malaria endemic countries, so we have to keep monitoring the environment for mosquitoes which transmit malaria. Vector control is not only a health issue but it is also a development issue," he said.
In relation to rats, Dr. Martin explained that they followed and continued to underscore the importance of Vector Control Officers to the community and encouraged the public's assistance as they worked to keep the community safe.
"As the very popular song from Nevis goes and it is a song that I like, "Food All Over" where there is food all over, there will be rats all over and so Vector Control Officers are very important to our life here in St. Kitts and Nevis.
"I am asking the general public to really support their activities and give them a pat on the back. If you notice there are gaps and people not showing up to work you should make the necessary reports via the community health centres because this aspect of Public Health is too important to allow it to fall by the wayside. So we really need your help and so keep supporting us," he said.