Queen's Baton Relay stops in Nevis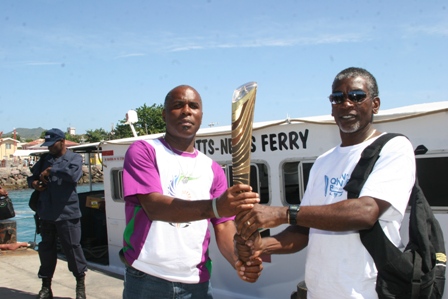 Permanent Secretary in the Ministry of Sports and Chairman of the local organising committee Mr. Alsted Pemberton receives the Queen's Baton from Vice President of the St. Kitts and Nevis National Olympic Committee Mr. Dennis Knight on its arrival in Nevis
CHARLESTOWN NEVIS (March 22, 2010) — The Queen's Baton will leave the Federation on Tuesday for the British Virgin Islands but not before it made a four hour stop in Nevis on Saturday afternoon.
The Baton which had already visited 39 countries on its tour of 70 Commonwealth countries ahead of the XIX Commonwealth Games, slated for Delhi, India in 2011, arrived in St. Kitts on Friday from Montserrat.
It was received on Nevis by Permanent Secretary in the Ministry of Sports and Chairman of the local organising committee Mr. Alsted Pemberton and was passed on to Special Olympian Ms. Lavanda Forbes on the Charlestown Pier.
Moments later the Baton was passed on to Premier of Nevis Hon. Joseph Parry outside the Alexander Hamilton Museum, who in turn handed it to the Queen's representative on Nevis, Deputy Governor General His Honour Eustace John.
In a brief welcome ceremony upstairs the Museum, Mr. Parry said he was hopeful that the baton's presence on the island would deepen the understanding of the Nevis public of togetherness and friendship.
"I would hope that this little exercise in a way, will rub off on us here in Nevis that we will appreciate that people can get along, that people can be friends, that people can compete and there can be winners and losers and they can still remain friends.
"That is a lesson that people need to learn and I hope the Commonwealth Games will not only teach those of us who are competing but those of us who will be watching and those of us who have seen this baton," he said.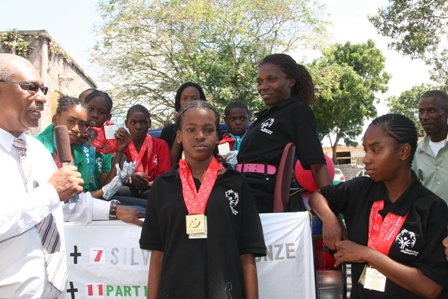 Special Olympian Ms. Lavanda Forbes with and Premier of Nevis Hon. Joseph Parry after she handed him the Baton
Mr. Parry also thanked the officials who accompanied the Baton to Nevis.
Following the ceremony, the Queen's Baton Relay continued throughout the island with athletes on foot, cycles and vehicles. On the route, there were a number of stops to historical sites which included the St. Thomas Anglican Church, Nelsons Springs, Cottle Church ruins, Nevis Pottery, the Heritage Village, Fig Tree Anglican Church and Bath Hotel.
The afternoon's events concluded near sunset when the Baton was handed over to the Commonwealth Games Officials who had accompanied it since its departure from Great Britain last year en route to Deli. The baton is expected to arrive there in time for the start of the Commonwealth Games in October 2010.
At the ceremony, brief remarks also came from His Honour Eustache John, Vice President of the St. Kitts and Nevis National Olympic Committee Mr. Dennis Knight and Area Vice President of the Commonwealth Games Federation Ms. Fortuno Belrose. King Meko sang a rendition of his popular calypso "Nevis Nice".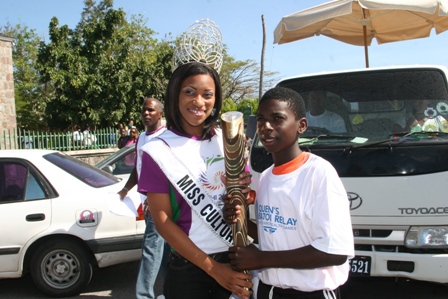 Miss Culture 2009 Ms. Mascinda Nisbett hands over the Baton to an athlete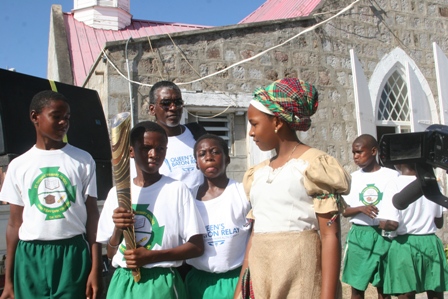 The Baton stops with athletes from the St. Thomas Primary School at the St. Thomas Anglican Church, the oldest Anglican Church in the Caribbean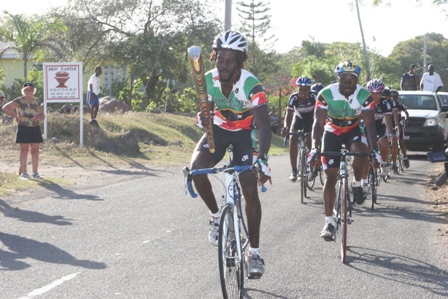 Cyclist Reggie Douglas carries the Baton with fellow cyclists in Newcastle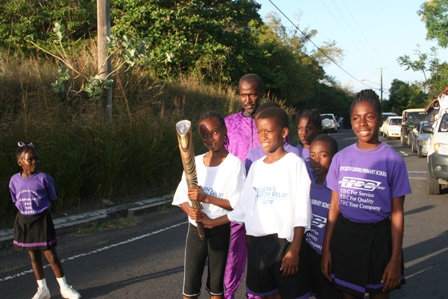 Joycelyn Liburd Primary School students prepare to run their leg of the Baton Relay in Gingerland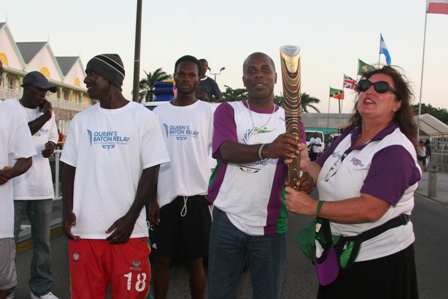 Permanent Secretary in the Ministry of Sports and Chairman of the local organising committee Mr. Alsted Pemberton hands over the Queens Baton to an official who accompanied the baton since its departure from Britain last October for Deli