Second sustainable geothermal reservoir discovered on Nevis; explorations commence on third drill site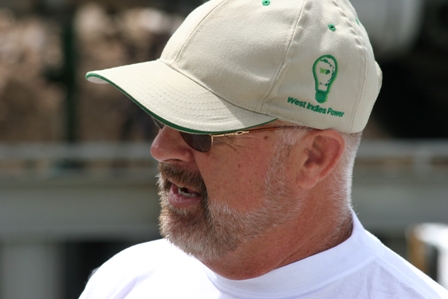 Geothermal explorations on Nevis took another step forward when exploratory works shifted from Upper Jessups to Hamilton Estate. The move followed the discovery of a second successful sustainable geothermal reservoir at Nevis 2 in Jessups which expanded the geothermal reservoir discovered by the Nevis 1 geothermal well on June 02, 2008.
During an interview with the Department of Information on September 05, 2008, on site at Hamilton Estate, Chief Executive Officer of West Indies Power Holdings B.V. Mr. Kerry Mc Donald, said with the new discovery, Nevis could produce well over 100Megga watts of energy and gave details on the status of drilling operations on the island.
 
"This is strictly an exploration hole site [Nevis 3]. When we are finished, this will be reclaimed and left. Right now we have just finished Nevis 2 which
The Nevis 3 site at Hamilton Estate, just before the drilling operations commenced on Friday
we drilled to 2407 feet and at that [depth] we had temperatures of 498 degrees Fahrenheit, that's 1000 feet higher than that same temperature was encountered on Nevis 1.
 
"It also had well head pressures of 291 psi (pounds per square inch) which is 191 psi greater than at Nevis 1. So it was a very successful well and now we have shut that in and we will be doing testing on that later and we will start today drilling the Nevis 3 well, which will take us between 30 and 40 days to complete," he said.
 
After the completion of the Hamilton well, the operations would be centered on the Nevis 1 Site at Spring Hill. Mr. McDonald also said the project was on stream though there had been some delays due to inclement weather that had been affecting the region.
 
"After that [Nevis 3 Site], we will be returning to Nevis 1 to actually start the production well at Nevis 1 at that same time the construction people will be starting to come in. We have had some delays because of the hurricanes but they are still scheduled to come in about that time.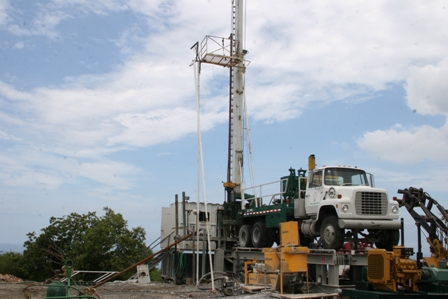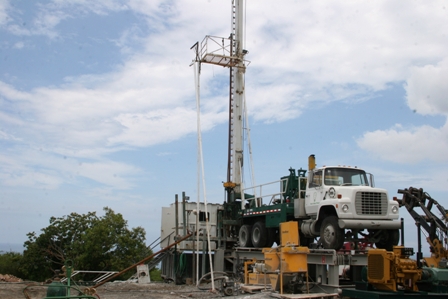 "So far the project is going well. Nevis 2 was 1.3 miles south of Nevis 1. Nevis 3 where we are right now is 1.3 miles south of Nevis 2 and we do presume we will find the same resource here and with that resource we will be able to have several hundreds of mega Watts [of energy] that we will be able to produce…The production rig is schedule to come in here [Nevis] within 30 to 45 days and we will begin drilling at Nevis 1 again," he said.
 
The third drill site at Nevis 3, would confirm that the Nevis geothermal reservoir existed over 2.53 miles, a long area that contained several 100MWs.