Services provided by Nevis Water Department changing, says GM Morris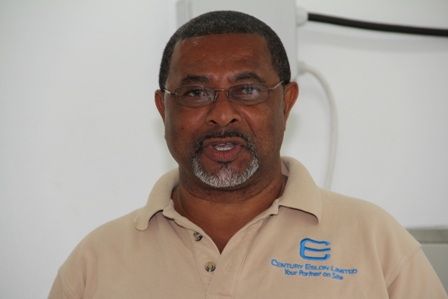 NIA-CHARLESTOWN NEVIS (December 05, 2011) — The service provided by the Nevis Water Department is changing and it will continue to change in the coming years. That was the view expressed by General Manager Mr. George Morris in an interview with the Department of Information on Friday December 02, 2011 at their facility in Stoneygrove.

He made the comment on the heels of launching a new Water Quality testing service offered by the Department's Laboratory and weeks ahead of added facilities slated to be launched in January 2012.

"Coming in January we are launching our Pay by Credit Card and that is going to be a feature that we will be adding to the office in town where the general public comes in and pay their bills.

"We have been getting a number of requests to pay on line and pay by credit card. We are starting out by the end of January with the credit card. It's another service," he said.

According to Mr. Morris, outside of the services to be rolled out in January, he said the Nevis Water Department was on the brink of embarking on a Caribbean Development Bank funded $23million upgrade that would enhance the water service on Nevis.

"There would be the construction of four new reservoirs and the rehabilitation of two major pumping stations and the introduction of the new wells that have recently been dug. We are going to see a change in the quality of service in the years to come," he said.

The General Manager also made reference to the refurbishment of the Department's Laboratory facility at Stoneygrove.

"The refurbishment of the Lab here at Stoneygrove was as a direct result of grant funds from the Caribbean Environmental Health Institute (CEHI) based in St. Lucia.

"We were able to obtain all the equipment and instruments here and a new vehicle that is used in our water quality testing programme," he said.