Shanai Liburd and Racquela Burke awarded MUA/NIA scholarships for 2023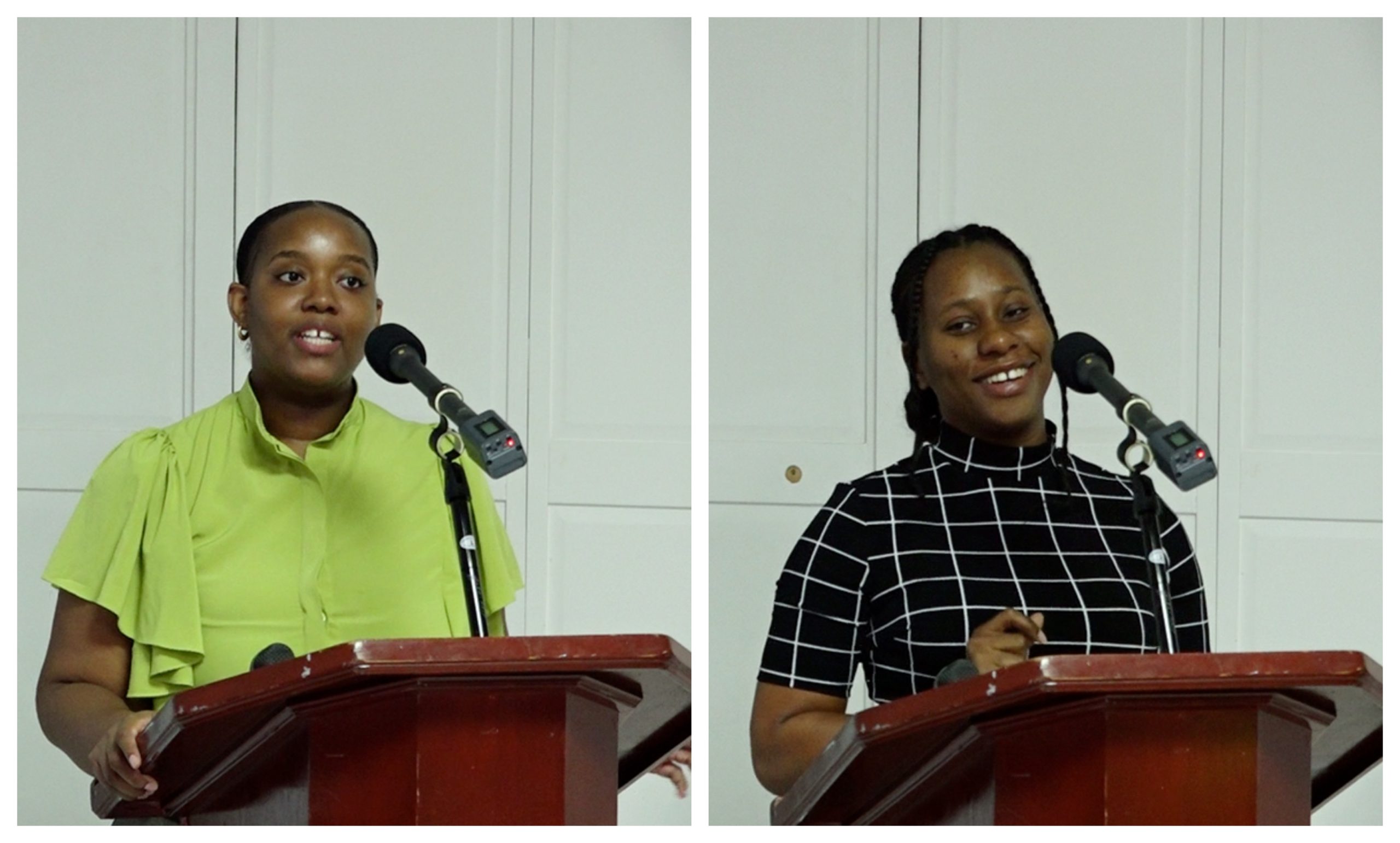 NIA CHARLESTOWN NEVIS (August 10, 2023)- Ms. Shanai Liburd and Ms. Racquela Burke are the most recent beneficiaries of the Medical University of the Americas (MUA) and the Nevis Island Administration (NIA) scholarship program.
During the recently held scholarship award ceremony, held at the Department of Gender Affairs conference room, Minister of Health Hon. Jahnel Nisbett congratulated the recipients and shared words of encouragement with them.
"It is a pleasure and honour to be here to celebrate our Medical University of the Americas Nevis Island Administration scholarship recipients. Congratulations to both of you. It was a competitive process of many qualified individuals but you both emerged at the top of the group. And this is something good because it gives you the opportunity to be able to return to Nevis and contribute to the development of our beloved community.
"I want to wish you the best and encourage you to put your best foot forward when you get out there; embrace the environment and the opportunity, academically, professionally and socially when you are there. Build networks, gather skills and return to Nevis to be able to contribute more to the Nevisian public."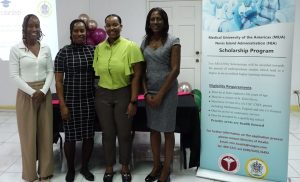 Expressing her gratitude for being an awardee Ms. Liburd also thanked her family and friends for heir support. She said she intends to return from university to give back to the people of Nevis.
"I am grateful to have received this scholarship. I first want to thank Almighty God for enabling me to go through this process and being successful. I want to thank the persons at the Medical University of the Americas and at the NIA Ministry of Health for making this opportunity available for not just for myself but persons who have received it throughout the years. My goal is when I finish my studies successfully to return home and be of contribution to this island."
Delivering words of appreciation Ms. Burke thanked the MUA and NIA for partnering in such an initiative that allows persons like her to attain tertiary level education "free of cost".
"That is something we have to be truly grateful for especially during these times. I do look forward to coming back and contributing to Nevis to make it better," she said.
Ms. Liburd is headed to the Western Illinois University to pursue undergraduate studies in Nutrition and Diet Ethics while Miss Burke will pursue Counselling at Northern Caribbean University in Jamaica.
Mrs. Shelisa Martin-Clarke, Permanent Secretary in the Ministry of Health, delivered remarks at the ceremony and outlined some of the elements of the scholarship program, which was established since July 1998.
"The scholarships we award are not merely financial provisions, they represent an investment in the future leaders, innovators and change-makers in our community. Scholarship recipients are therefore expected to return to serve for a period of no less than five years," she informed, noting that recipients are required to attain and maintain a grade point average of 3.0 and above in order to keep their scholarship.
Every year the MUA/NIA scholarship program grants aspiring university students the opportunity to pursue undergraduate studies at an accredited higher learning institution.
In a congratulatory message, Premier of Nevis Hon. Mark Brantley wished both awardees success in their academic pursuits. He was heartened by the fact that there were five applicants this year as sometimes there were very few pursuing the opportunity.
"I say congratulations to Miss Liburd and Miss Burke and their families. They now have the opportunity to go off and study and put themselves in a position to better themselves and their families, and the best part about scholarships is that they come back with their degree and no student loan to pay.
"This is one of the best scholarships that is on offer because it pays for everything and yet still we have a problem with our young people not applying. I continue to bemoan the fact that our young people complain and say things aren't available for them but when we have excellent opportunities like these they don't look over their shoulder." He encouraged individuals to do the necessary inquiries and research to ascertain what scholarships are available.
With respect to the MUA/NIA annual scholarships, to be eligible for selection applicants must be at least eighteen years of age, a citizen of St. Kitts and Nevis, and have at least five CXC-CSEC passes including Mathematics, English and one science. Applicants must also be active in community service and should have already been accepted by a qualifying school.
Premier Brantley explained that a panel reviews the applications and makes recommendations. The interview process, he highlighted, is done "outside of the political directorate of the government."
For further information on the application process interested persons can contact the Ministry of Health at the min.health@niagov.com or via telephone at 469-5521 ext. 6490, 6491 or 6492.