Social Development Minister celebrates with Nevis' newest centenarian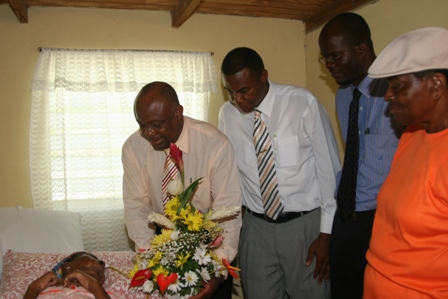 (l-R) Minister responsible for Social Development Hon. Hensley Daniel presents a bouquet of fresh flowers to bedridden Mrs. Josephine France, in recognition of her 100th birthday. He is accompanied by Junior Minister in the NIA Hon. Dwight Cozier and Area representative and Attorney General Hon. Patrice Nisbett while daughter and caregiver Ms. Serita France (extreme right) looks on
CHARLESTOWN NEVIS (June 18, 2010) — Deputy Premier and Minister responsible for Social Development on Nevis Hon. Hensley Daniel, said the Nevis Island Administration (NIA) had a responsibility to put a human face on the island's development and the manner in which they cared for the elderly spoke to its view on humanity.
The Minister was at the time on a visit just days before the June 19th 100th birthday milestone, of Nevis' newest Centenarian, bedridden Mrs. Josephine France, at her home in Mount Lilly on Thursday.
"The way we care for elderly people says a lot about us, says a lot about our humanit. In this island we ensure that our elderly people are provided with food, are provided with the requisite electricity and water and personalised care. That is not happening in many, many countries that are much richer.
"As I have said before and I keep saying it, when we were on the political platform people say to us we can't look after all these people because it takes cash to care. We said no, it takes a conscience to care and when you have the conscience to care you find the cash to care and that is what we have done with our elderly people. We found the cash to care because we have the conscience to care," he said.
The Minister also pointed to a series of programmes which the Ministry had developed for the care of the elderly and included the employment of home health care personnel.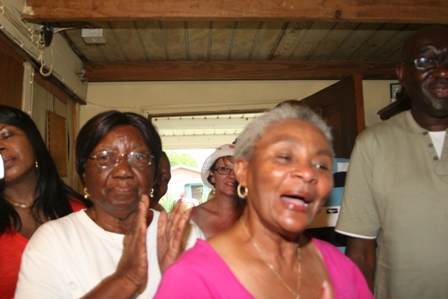 Family and friends sing happy birthday to the Birthday Girl
"We have home health care, we employ people to go around the communities and ensure that the elderly people are taken proper care of. Only last month we doubled the number of persons doing this job in Nevis, in an environment where in other parts of the world they are reducing the numbers of those kinds of workers because of cost and I think we ought to appreciate that.
"Someone says to me 'Mr. Daniel you are spending a lot of money on the elderly, I see you spending some on the young people too' and my response was 'the elderly people have already contributed so we will work with these they are contributing let's see what they are up to'. So we have to deal with those who have already contributed while at the same time nurturing those who contribute," he said.
Mr. Daniel noted that birthday events of the elderly which were marked by the Ministry of Social Development with a visit, a bouquet of fresh flowers and a certificate of recognition were significant.
"These ceremonies and these simple moments mean so much to us. We are simply trying to communicate to the rest of Nevis that our heroes are home grown. They are not on television they are from as we say locally, right in our backyard.
"So we don't need to look outside but we need to look around us, at people who have conducted themselves in a decent and orderly manner who could easily become some of our very best role models," he said.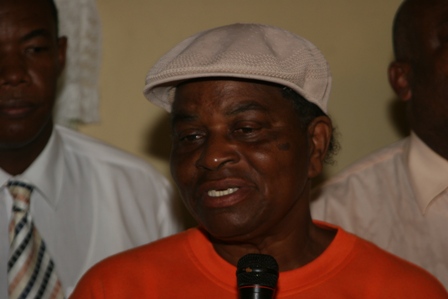 Ms. Serita France says thanks
Mr. Daniel thanked Mrs. France on behalf of the Ministry of Social Development for her sterling contribution to the development of Nevis and said he trusted that all who were engaged in her care would take example from her.
He was of the view that Mrs. France had been good to her entire community and had grown up at a time when people cared more for each other. He said she had children of her own but was certain that other persons from the community were added to the family on a daily basis and extended care.
He said the young people of Nevis needed to understand that if they were going to make good on the island, it would not happen through the ownership of houses and cars but through the quality of care and interaction with each other.
"I say it all the time that perhaps in Nevis we need to take several pages from Mrs. France's book. All of the elderly people that we celebrate they don't have large houses and large cars and they are not rich materially but they are rich spiritually, socially and in terms of their willingness and of their service to others they are rich. So perhaps our young people need to change the definition a little bit to reflect the life and times of Mrs. France," he said.
Meantime, Mrs. France's daughter and care giver Ms. Serita France in response thanked the NIA on behalf of her family and expressed gratitude for the Administration's continued support for the elderly and endorsed the work they continued to do.
"Our grateful thanks to each and every one of you and we pray that God will continue to do all the good work you all are doing Mr. Deputy Premier and all your other colleagues. We know that you are doing a great job for the elderly and we pray that God will continue to bless you all and continue to bless this Ministry in a very special way. We are eternally grateful to you all. My prayers are always with you all.
"I am praying very much for the Nevis Island Government because I see the good work that they are doing. I am glad that I am a part of them and I love them all. I really appreciate the work that you all are doing. May God continue to bless you all richly as you continue to do this good work. It's a good work, it is a great work and I believe that God is going to reward you all for what you all are doing. So keep up the good works, God's blessings are upon you all and may God continue to use you all to do greater work than you all are doing right now," she said.