Social Development Minister pledges Ministry's unwavering support in fight to counter violence against women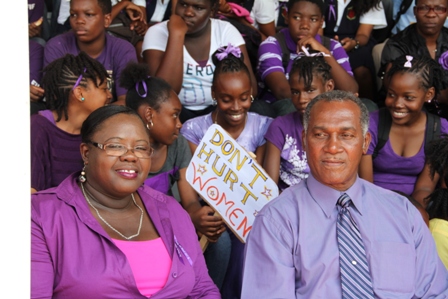 NIA CHARLESTOWN NEVIS (March 11, 20130 — The Ministry of Social Development on Nevis has every intention to wrestle the age old issue of violence against women. That assurance came from Junior Minister Hon. Hazel Brandy-Williams as she delivered remarks at a March and Rally organised by the Department of Social Services in observance of International Women's Day 2013.
The rally followed a march through the streets of Charlestown to the Elquemedo Willett Park on March 08, 2013. Both events were held under the theme "A Promise is a Promise – Time for Action to end Violence against Women".
"I want to assure you that it is the intention of my Ministry as well as the Nevis Island Administration to wrestle the age old problem to the ground by promoting the concepts of gender equity, gender equality and harmony in male and female relationships.
"I am particularly struck by the words "time for action" because I believe that we could no longer continue to theorise and talk about his issue but we must work together to rid our society of the scourge of violence against women in all forms," she said.
According to Mrs. Brandy-Williams, the Ministry was very aware that violence, in particular domestic violence, had impacted many women and families which had resulted in untold social and economic costs in the communities.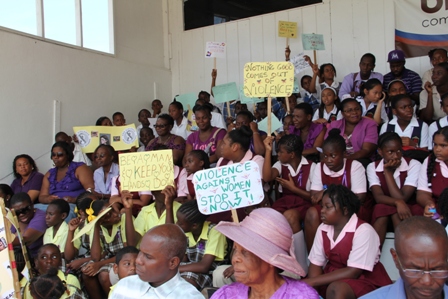 However, she said the time had come for Nevisians to make positive steps in collaboration with the Ministry and Division of Gender Affairs to create and promote health and wellness in their families. The Minister cited that if families were building blocks in the society, then Nevis would not be well if the problem of violence was allowed to take root and fester in the community.
Notwithstanding, she believed that an effective response to violence against women had to involve a collaborative effort between women and men and all sectors of the community which included law enforcement.
"It is clear to me that a part of the change agenda must be directed at the legislative, social and cultural beliefs and practises that are deeply embedded in our society.
"We must start by proclaiming loudly that all types of violence against women are criminal acts and violence is not to be condoned in the private setting of our home or in public. There must be a zero tolerance to violence in all its manifestations," she said.
Mrs. Brandy-Williams also noted that the hidden nature of domestic violence had to be removed.
"We must remove the stigma of reporting this crime to authorities. Women, we must seek support from persons trained to assist, we must act as our sister's keeper and most importantly, we must empower women to act on their own behalf to mitigate and reduce the risk of violence against them," she said.
The Minister also called on parents to pay attention to how boys and girls were socialised in the home. She said research had shown that violence was a learned behaviour which involved issues of power and control over the weaker victim.
She further explained that it was important for the introduction of an intervention programme which sought to treat the casual factors if long term solutions were to be provided to what she deemed as a potentially catastrophic problem.
In conclusion The Minister urged all to use the March as a starting point of the change agenda that must be embarked on to tackle the issue of violence to empower the island's man and women to build stable families. "There is no excuse for abuse, she said, "the starting point is to acknowledge that any form of violence is a criminal act".