St. Thomas Primary celebrates 40th anniversary; Head Teacher reflects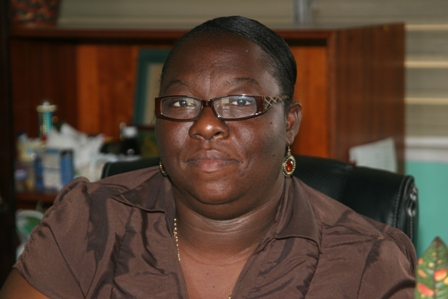 Principal of the St. Thomas' Primary School Ms. Norlene as the learning institution celebrates its 40th anniversary
NIA-CHARLESTOWN NEVIS (January 13, 2011) — Principals who served the St. Thomas Primary School (STPS) over the past 40 years were described as outstanding stalwarts who contributed many years of exemplary service to the institution and helped it withstand the test of time. That sentiment was echoed by serving Principal Ms. Norlene Smithen, while she delivered remarks at a Thanksgiving Service on Monday to mark the school's 40th anniversary. The event was held at the nearby St. Thomas Anglican Church.
"To the various principals that manned this magnificent ship on its educational journey throughout the 40 years, we say thank you for a job well done. Principals like Mrs. Violet Nicholls, Mr. Oban Lawrence, Mr. Melford Ward, Ms. Rovita Butler, the late Mr. Authnell Swanston and Ms. Earlene Maynard, would have blazed the trail in order to ensure that the hundreds of students entrusted in their care succeeded. Like the root of a strong oak tree, they were a tower of strength and encouragement to the students and teachers," she said.
According to Ms. Smithen, the people of St. Thomas' Parish were thrilled when their dreams were finally realised on January 11th, 1971 and the doors of the newly built St. Thomas' Primary School were opened to accommodate 408 anxious, energetic and enthusiastic students (195 boys and 213 girls).
She noted that the Canadian Government in partnership with the Nevis Island Administration then must be recognised for their vision since the old Lowland School could no longer accommodate the large number of students who attended school on a regular basis.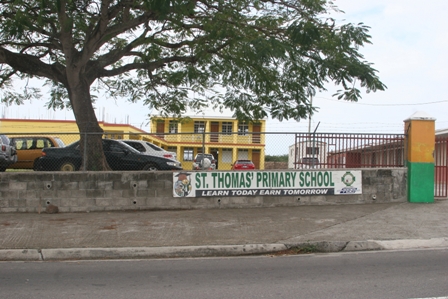 The St. Thomas' Primary School in 2010, 40 years on
"Thus, it was imperative that a new school was built to alleviate the overcrowding problem. Today, 40 years later, we say thank you once again for the generosity of the Canadian Government," she said.
Ms. Smithen herself a product of STPS, recalled vividly her early years at the school. Young, teary eyed and scared she entered the school in the 70's and remembered receiving half a book and half a pencil from Mrs. Nicholls; Mr. Lawrence's Mathematics classes in the absence of her teacher; Ms. Butler's love for singing and taught the choir to sing including the gospel song "Whispering Hope". She also reflected on Mr. Ward who was quiet yet strict and Mr. Swanston who was famous for his Mathematics trophy tests.
The Principal also spoke fondly of her predecessor Ms. Maynard who was filled with energy and left many wondering about her source of inspiration.
"Miss Earlene Maynard would always be remembered for her hard work. She girded her students and teachers with praise and encouraged them to do their very best and to dream big in order to become successful," she said.
Mention was also made of countless teachers for their contribution to the School's general development, some of whom she said had worked tenaciously for 20 years and over and had served the community with distinction.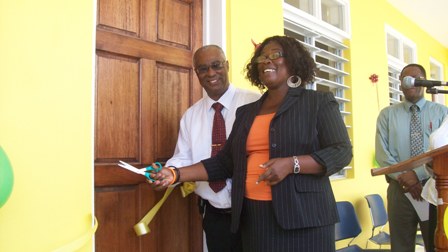 Former Principal Ms. Earlene Maynard cuts ribbon to an extension of the St. Thomas' Primary School in January 2007 with Premier of Nevis, Minister of Education and Area Representative Hon Joseph Parry. Looking on is Permanent Secretary in the Ministry of Education Mr. Joseph Wiltshire
Particular mention was made of Mrs. Carmen Lawrence, Mrs. Eglantine Hanley, Mrs. Lucia Wilkinson and Ms. Donna Brown, Mr. Livingstone Lawrence who served as Sports Officer and Mrs. Clare Budgeon and Ms. Adlyn Hamilton who ensured that students were properly nourished daily with hot meals.
Ms. Smithen also spoke of the school's spiritual leaders in the Anglican Priests, Pastors Jennifer Weeks, James Douglas and Sandra Flemming who cared for the student's spiritual growth and development.
The efforts of the school's Guidance Counsellors Mr. Frank Clarke and Mrs. Sandra Flemming were also recognised for their tremendous efforts over the years.
Principal Smithen pointed to the students love for sports which had grown over the years. It was incorporated into the school's curriculum since physical activity was a necessary component for a healthy body and mind.
"Mr. Livingston Lawrence, Mr. Emmanuel Richards and Ms. Jasmine Charles have played a great role in shaping the lives of our children. The students were able to surmount various challenges and win competitions," she said.
Academically, the St. Thomas' Primary School has done exceptionally well over the years and a high percentage of students made it into the top forms of the Charlestown Secondary School.
"Agiel Browne, State Scholar was a product of STPS. The outstanding performance of our students on the test of Standards should be highly commended. Kendelle Thomas and Cheslin Maloney are two top students for the Test of Standards and the fruits of our hard labour.
"When we take a closer look at the society we will see many fruits of our labour – the Martin's Parry's, Nisbetts', Hamilton's, Smithen's, Liburd's, Pemberton's, Hanley's, Sargent's," Principal Smithen acknowledged.
Though the school plant has battled against the forces of nature including several hurricanes, the Public Works Department had adequately maintained the physical structure over the years. In 2007 two additional classrooms, a computer lab and a library were constructed and in 2010 two additional classrooms with bathroom facilities were added to accommodate Grade 6.
In conclusion the Principal lauded the School's current staff for their hard work and dedication, cooks and community workers who she said gave 100 percent support for which the School remained grateful.
The School's 40th anniversary activities will be celebrated throughout January. They include a Cleanup Day/T-shirt Day/Tag Day on January 14th; Bank of Nevis sponsored Quiz on the 18th; Visit to nine elderly persons on the community on the 19th; Star Search/Raffle on the 21st; Lunch and Fun Day on the 28th; Awards Dinner at Occasions Conference Centre on the 29th and a Retreat on the 31st.