Students receive Alexander Hamilton Scholarship Award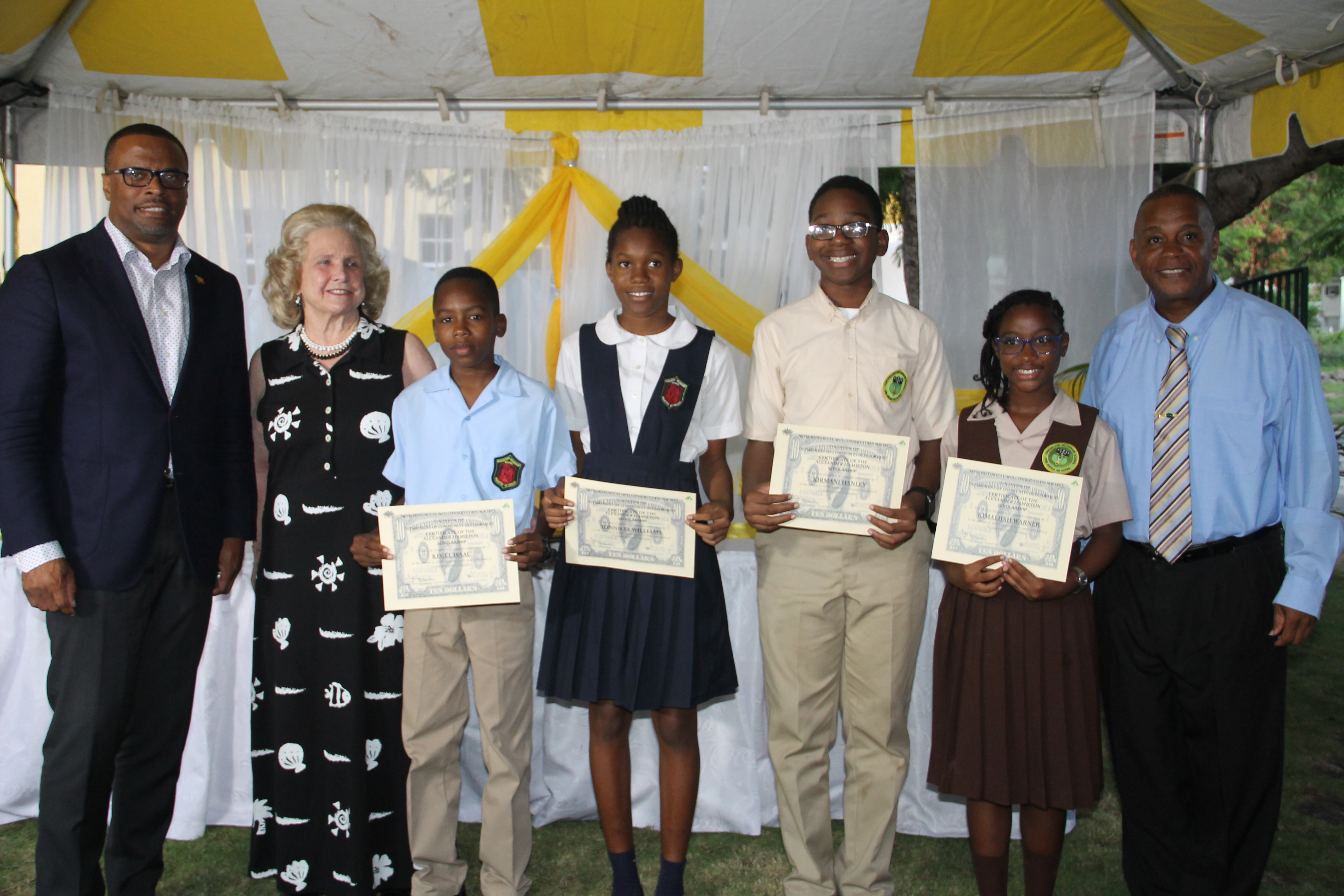 NIA CHARLESTOWN NEVIS (January 15, 2018) — Four students are now the new recipients of the Alexander Hamilton Scholarship Award. The students were presented with their awards by Hon. Eric Evelyn, Minister of Youth and Community Development on Nevis, on Friday, January 12, 2018, at the Alexander Hamilton Museum Grounds, during the annual staging of the Alexander Hamilton Tea Party in commemoration of his indelible historical presence.
The scholarship, an initiative which began over 50 years ago, is awarded to four first form students to assist them in their academic endeavours throughout secondary school.
Mr. Kegel Isaac and Ms. Jonnicia Williams are the recipients from the Charlestown Secondary School, while Mr. Kirmani Hanley and Ms. Kimalijah Warner are the recipients from the Gingerland Secondary School.
In brief remarks, Hon. Eric Evelyn admonished the recipients to continue to attain the highest grade and vowed to show an interest in their performance during the years of their tenure in secondary school.
"I would like to say congratulations to the students and…to congratulate all partners who made it possible. …Become statesmen and stateswomen. Work hard. Don't give trouble. Whatever you do, do it well. Make yourselves, your village proud. Be respectful in your deportment in public. I will be looking at how you conduct yourselves in the streets and will try to follow up with you through school."
Ms. Tracey Parris, Community Development Officer, gave an overview of the scholarship fund for 2017. She stated that in July 2017, three of the eldest recipients exited the programme as they were finished with secondary schooling and congratulated them on the passes attained at the CXC levels.
She also encouraged the newcomers to work hard as she highlighted the guidelines regarding their upkeep of the scholarship. She further encouraged them to learn as much as they can about the life and times of Alexander Hamilton.
The recipients are required to contribute some hours of community service at the Hamilton Museum of the Nevis Historical and Conservation Society, maintain academic eligibility, submit report forms and other documentation required for the scholarship programme.
"For the students who remain, I would like you to treat this scholarship as a privilege and also as a responsibility. I implore of you to take sometime to read about the life of the late Alexander Hamilton. He rose from humble beginnings to becoming a Founding Father of the United States, Chief of Staff to General Washington, one of the most influential interpreters and promoters of the American constitution, lawyer, military leader, political scientist, journalist, and a government official," Ms. Parris said.
The event was also attended by Premier Mark Brantley, Mary Anne Hamilton, widowed Great-Great Grand daughter in law of Alexander Hamilton, the Trott Family, past scholarship recipients and members of the general public.