Teen Mothers Programme launched on Nevis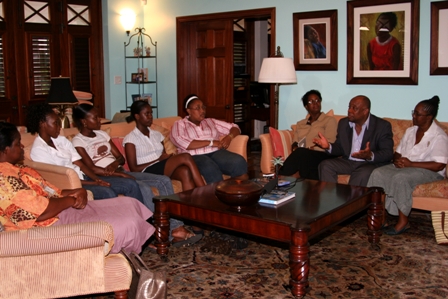 Teenage mothers on Nevis now have the opportunity to transform their lives, through a new Teen Mothers Programme launched recently by the Gender Affairs Unit, Department of Social Services in the Nevis Island Administration at a private Villa at the Four Seasons Resort Estates.  
Minister with responsibility for Social Transformation Hon. Hensley Daniel told the participants of the project that they should regard it as an opportunity to take control of how their lives turned out.
 
 He said they now had a support system and a government who would provide opportunities for them to expand their horizons through education and to become productive persons in the community.
 
According to Mr. Daniel, prior to 2006, teenage mothers were abandoned by all four institutions that were able to guide them – the home, church, community and schools.
 
"The four institutions of social control…that you look to guide young people when they were pregnant, all turned their backs on teenagers, and so, you must consider this as critical, as a very important turning point for you that our Ministry is prepared now to work along with you. That is the background from which we come," he said.
 
The Minister explained that when he became responsible for family services he took his decision to cabinet to allow teenage mothers to return to school in a conservative society that was accustomed to tradition and the decision met with much resistance in the community.
 
However, he said it was widely believed if children continued to be excluded from education, the Administration would have to deal with greater social problems. Mr. Daniel said too that because of the abandonment of teen mothers in the past, multiple pregnancies occurred and today these children are society's greatest challenge.
 
"Today we are paying socially, we are paying economically we are paying financially, we are paying psychologically for this level of abandonment. Sad to say there are still some people who hold on to those old ideas…
 
"We decided that we will open the gates to the children and allow them to return to school and there has been no indication, and I have been observing carefully, that as a result of allowing teenage mothers to school there has been any spike in teenage pregnancy," he said.
 
Other words of advice and support came from Director of the Gender Affairs Unit Mrs. Salome James, former Chief Education Officer on Nevis Mrs. Lornette Manners and Gender Affairs Officer Mrs. Oslyn Griffin Kelly.