Three Nevisian students off to Cuba to pursue studies in medical field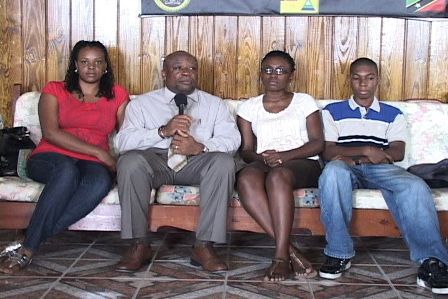 Minister of Health on Nevis Hon. Hensley Daniel (second from left) with Nevisian students who received Cuban Scholarships to pursue studies in Cuba with financial assistance from the Nevis Island Administration (L-R) Ms. Michelle Lawrence, Ms. Donna Pemberton and Mr. Elijah Thompson
CHARLESTOWN NEVIS (September 06, 2010) — Three Nevisian students left the island on Friday for Cuba to pursue studies in the medical field at the La Escuela Latino Americana De Medicina in Havana. Ms. Michelle Lawrence, Ms. Donna Pemberton and Mr. Elijah Thompson who received Cuban scholarships and financial assistance from the Nevis Island Administration (NIA), joined their counterparts from St. Kitts who also received Cuban scholarships to study medicine.
Minister of Health in the NIA Hon. Hensley Daniel said in a recent interview with the Department of Information prior to the student's departure, that it was the first time three students had left at once to pursue studies in varied areas of medicine in Cuba.
He said it was as a result of many discussions with former Cuban Ambassador to St. Kitts and Nevis Her Excellency Anna Maria Gonzales and her predecessor H.E Jorge Desiderio Payret Zurbiaur and the NIA's insistence that it was necessary to take advantage of the opportunity for Nevis students to pursue careers in medicine.
"I want to record my thanks to the Embassy of the Republic of Cuba and the people of Cuba for affording us the opportunity to pursue careers in medicine. I want to urge the students to make the very best of the opportunity and I believe in time they will be speaking Spanish and they will be in time serving us.
"I want them to go with the blessings of the Ministry of Health, the Nevis Island Administration and the families and communities of which they come will be very proud of them," he said.
Mr. Daniel wished the students well in their undertaking and told them that Cuba had a competitive and comparative advantage in medicine and was one of the leading countries in tropical medicine research.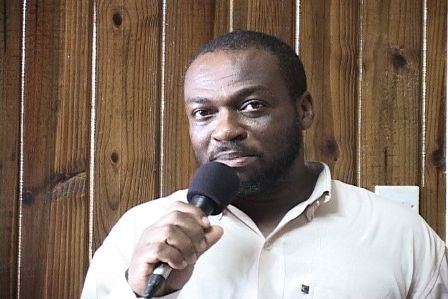 Permanent Secretary in the Human Resource Department of the Premier's Ministry Mr. Chesley Manners
The Health Minister deemed it a great opportunity for the students at their age (below 25) to be afforded the opportunity to pursue medicine in Cuba, an island that had surpassed many countries in the world in terms of its quality of health care.
Meantime, Permanent Secretary in the Human Resource Department of the Premier's Ministry Mr. Chesley Manners who was also present explained that the Cuban Government had offered 10 medical scholarships to the Federation of St. Kitts and Nevis (five each to male and female students).
"The scholarship covers tuition a stipend of 60 pesos per month, meals room and board and the Nevis Island Administration would provide airfare to Cuba and airfare from Cuba on completion of their studies and also subsistence allowance in the amount of US$2,200 per year," he said.
Mr. Manners also registered his gratitude to the Cuban Government for their continued assistance to the development of the human resource capital on Nevis, particularly in the area of health which was a top priority for the NIA.
The Permanent Secretary said he was pleased that the three students had shown a keen interest in an area that the NIA had been trying to improve. He explained that many persons in the area of health had been imported to fill vacant positions on Nevis.
"So we are grateful that these three Nevisians have shown a keen interest in the area of medicine and so we can only wish them well and we hope they go there and work hard and that at the end of the day they would come back home and be very much enthused and very much motivated to serve their country," he said.
However, he noted that it was not the first time that students in Nevis had benefitted from the Cuban gesture.
"We had Mr. Deora Pemberton who did Engineering, Mr. Rawlston Archibald and Ms. Veron Brooks who would have done studies in Dentistry. We have Cleo Smithen Romany who did Medicine and she is now specialising in the area of Paediatrics. We have also Ms. Shara Maynard who did Accounting and Mr. Bentley Bissette who is presently pursuing studies in the area of Sports Education," he said.
In response Ms. Lawrence who spoke on behalf or the other two students thanked all those who made it possible for their opportunity to pursue studies in medicine in Cuba.