Top Constable for 2016 on Nevis encourages fellow nominees to continue working diligently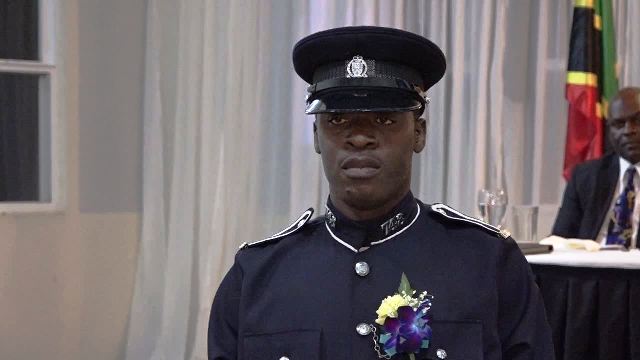 NIA CHARLESTOWN NEVIS (March 07, 2017) — Winning the Top Constable accolade in Nevis for 2016, did not prevent Constable No. 748 Kerran Nicholas, attached to the Task Force Unit, from encouraging his fellow nominees and the public in St. Kitts and Nevis.
Nicholas, who had been nominated for the award three times before, was presented with the award by Hon. Vance Amory Premier of Nevis and Minister responsible for Security in the Nevis Island Administration (NIA) at the 15th annual Constables Awards Ceremony and Dinner at the Occasions Entertainment Arcade at Pinney's on March 04, 2017. It was hosted by The Royal St. Christopher and Nevis Police Force (Nevis Division) Strategic Planning Group.
"To the nominees, I must say, don't give up but continue to work hard. Don't let not being best constable for the year deter you from working hard but instead, give you motivation and drive to work harder in the coming months and years. The ultimate goal is not being here but making the Federation a safe place for all…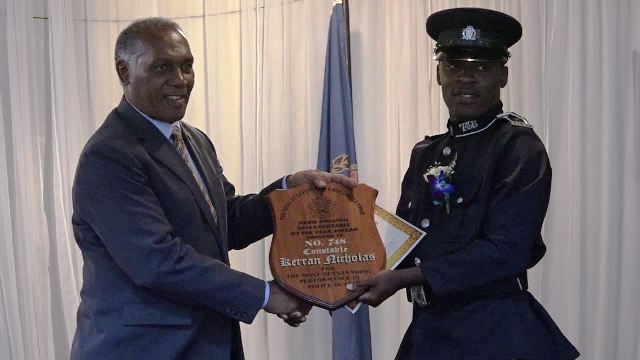 "I would like to urge the people of the Federation to continue to assist the police in fighting crime, as crime is everybody's business. If you see something say something, so we can all make St. Kitts and Nevis a safe place for all, to live and work," he said.
While he thanked God for affording him the opportunity to be named the Division's top Constable for 2016, Nicholas who was also received the Prime Minister's Award, said he felt privileged and honoured to be selected.
He also thanked his family for their support and encouragement which enable him to carry out his duties as a police officer.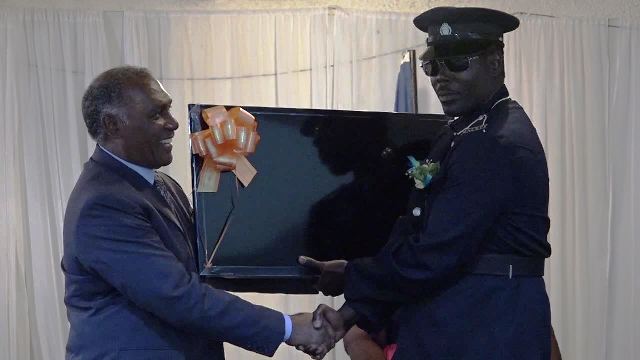 The Top Constable for 2016 expressed gratitude to the Nevis Division Strategic Planning Group for keeping the annual award which he believes helps to motivate the men and women in the Division to work hard and to do their best in crime fighting.
He singled out Inspector James Stephen for what he described as his continued support in his development as a police officer. "Through him, I must admit, I gain a lot of experience and knowledge," he said.
Officer Nicholas, who hails from Grenada and joined the Royal St. Christopher and Nevis Police Force in 2009, was awarded for his skills, self-discipline and responsibility in his work.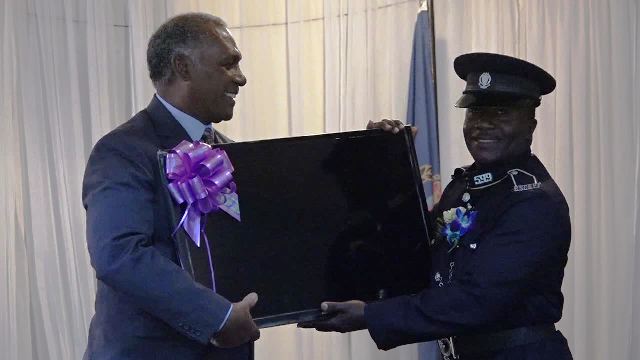 The second place winner was No.621 Constable Keith Pemberton of the Newcastle Police Station. He was also presented with the Commissioner's Award. No.599 Constable Shayne James of the Gingerland Police Station placed third. He also received the Divisional Officer's Award.
The other nominees for the award were No. 840 Woman Constable Octovia Boyd of the Charlestown Beat and Patrol Unit, No.761 Constable Kennedy Stevens of the Charlestown Beat and Patrol, Bike Patrol Unit, No.615 Constable Lennox Hodge of the Cotton Ground Police Station, No. 730 Constable Etroy Jeffers of the Traffic Department, No.668 Constable Gleason Burke of the Violent Crime Unit and No.653 Constable Carl Gordon of the Criminal Investigation Department (CID).