Tourism officials welcome MV Silver Muse on inaugural visit to Nevis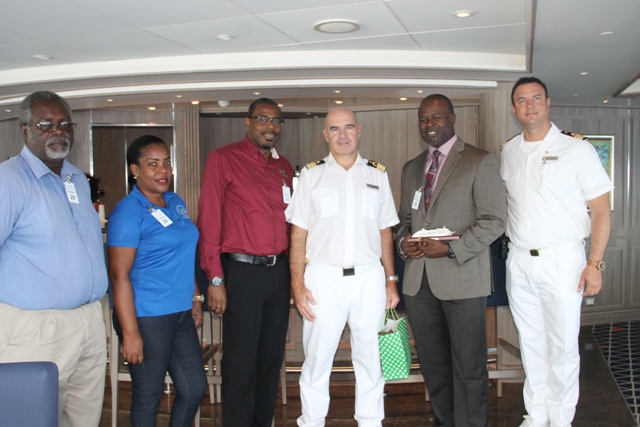 NIA CHARLESTOWN NEVIS (April 06, 2018) — Tourism officials on Nevis welcomed the captain and crew of the MV Silver Muse on April 06, 2018, when the ship made its inaugural call during an unscheduled visit to Nevis.
Mr. Greg Phillip, Chief Executive Officer in the Nevis Tourism Authority (NTA) who led the welcoming delegation said they were pleased for the visit which gave the 400 passengers an opportunity to enjoy Nevis. He expressed hope that they would find favour with the destination and return for future visits.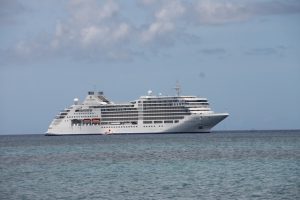 "We are quite pleased that you are here for the first time and we are always looking forward to hear what visitors for the first time have to say about Nevis, when they first set foot in Nevis that feeling that they get.
"We would also hope that the clientele that you have on board, now that they have gone ashore, they…would have a wonderful time enough, so that in the future your ship and its guest would see it fit to actually return to Nevis. So we are quite hopeful of that. In fact we are confident that they are out there having a good time and would want to come back," he said.
In response, Captain Marco Sangiscomo thanked the tourism officials for their warm hospitality. He said he knew a little about Nevis because he had visited the island previously with other ships of Silver Sea Cruises.
"It's a beautiful place and I'm sure that our guests will appreciate it. Regarding the MV Silver Muse this is our first call here and I hope it won't be the last one. Thank you very much for your warm hospitality," he said.
The captain described the ship as one of the smaller vessels in the cruise industry and spoke of its features, why he liked working on it and the cruise.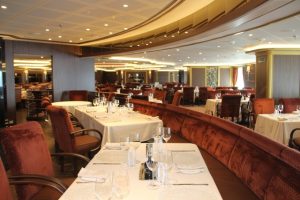 "It's a very nice ship. I love this one. It's very intimate and makes you feel very welcome. The capacity is 600 passengers but currently we have 406 because this is a charter, so we don't sell the cruise. This is an incentive charter for their employees. The crew is 412.
"When the ship is full, we have 600 passengers and 412 crew. We are one of the cruise lines with the highest ratio with a more even number of guests and crew members. This is the first ship with a different concept of dining. We don't have a big one that can accommodate everybody but we have about 8 different venues, smaller, to create a more intimate atmosphere," he said.
Mr. Devon Liburd, Director of Sales and Marketing at the NTA who chaired the welcoming ceremony said they were pleased that the company Silver Sea Cruises had chosen to visit tranquil Nevis over the other destinations the Caribbean region offered.
Also present were Mr. Ken Pemberton, Port Manager in the Nevis Air and Sea Ports Authority (NASPA) and Ms. Tessa Manners, Representative from the Ministry of Tourism in the Nevis Island Administration.