Training to enhance Nevis Public Servant's productivity, efficiency and professionalism continues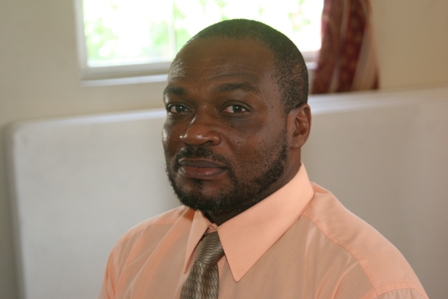 Permanent Secretary in the Department of Human Resources in the Nevis Island Administration Mr. Chesley Manners
CHARLESTOWN NEVIS (November 26, 2010) — The latest leg of training for Public Officers in the Nevis Island Administration (NIA) to enhance productivity, efficiency and professionalism, has been described as successful.
Permanent Secretary in the Human Resources Department Mr. Chesley Manners made the comment at the end of a one-day exercise on Wednesday attended by almost 30 office managers and supervisors. The event took place at the Red Cross Conference Room in Charlestown under the theme "Effective Communication".
In an interview with the Department of Information at the end of the workshop Mr. Manners gave his view on the outcome.
"The presenter was Mr. Charles Bussue who delivered convincingly on the topic. The session was quite interactive and instructive, leaving the participants and organisers with the impression that it was indeed a productive exercise.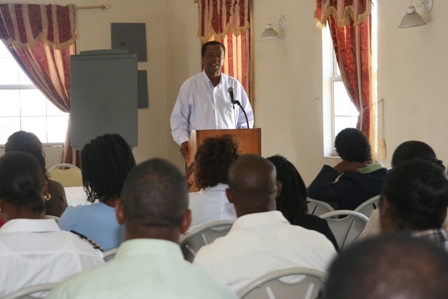 Presenter for the workshop on Effective Communication Mr. Charles Bussue during his presentation to office managers and supervisors in the Nevis Island Administration
"Mr. Charles Bussue is no stranger to most of us. He has been a model Public Servant for a very long time, himself an excellent communicator. He would have done some work for us already in the area of team work and he did a marvellous job. Mr. Bussue would have previously done something [workshop] on teamwork," he said.
According to Mr. Manners, training remained one of the main functions of his Department which facilitates both overseas and in-house training.
However, he explained that Wednesday's training exercise was in response to a needs assessment which was conducted in the area of training and effective communication that had been identified as an area in need of attention.
Mr. Manners agreed that in every domain of human endeavour, communication could either make or break an organisation and therefore the participants at the workshop had been sufficiently motivated to return to the workplace with some refined skills in good communication.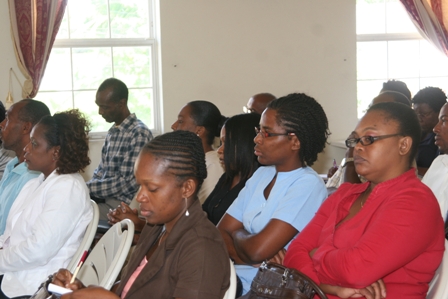 Participants at the workshop hosted by the Human Resources Department on Nevis
Notwithstanding, he explained that in recent times workshops had been held for other sectors of the Public Service and there were plans for future sessions for top managers also.
"This training exercise follows one done in October with Mrs. Clara Walters who exposed a large number of our Junior Officers to the fundamentals of quality customer service.
"She conducted a session on Quality Customer Service for our junior officers and they were really enthused and felt that the session was really productive and that they would have benefitted tremendously. We would have also done training sessions in Leadership Skills. Public Service Orientation and Civil Service Procedures," he said.