UNESCO workshop on Nevis draws attention to Federation's children with Autism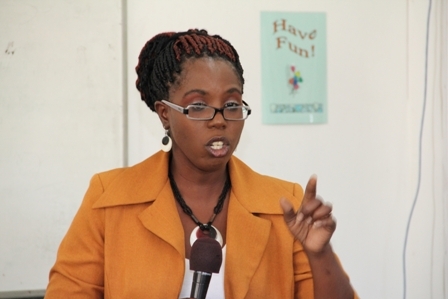 NIA-CHARLESTOWN NEVIS (January 27, 2012) —
Autism was the focus of a two-day workshop for a mixed group of 30 Preschool and Special Education Teachers, Day Care Supervisors and Nurses on St. Kitts and Nevis which concluded at the Department of Education on Nevis on January 26, 2012. The event was hosted by the Ministry of Education on St. Kitts, with funding from the United Nations Educational, Scientific and Cultural Organization (UNESCO).
Participants were exposed to a range of issues related to Autism but most importantly were taught to recognise children with autism at an early age.
During the opening ceremony on Wednesday, Principal at the Special Education Unit on Nevis Mrs. Violet Clarke said the workshop was part of a project which sought to develop an early intervention centre in St. Kitts for children with Autism Spectrum Disorders (ASD) and other developmental disorders.
"The centre will be set up as a demonstration environment to provide training for parents, nurses, preschool providers and teachers. Children will have the opportunity to be screened and receive intervention programmes designed by a multi professional team," she explained.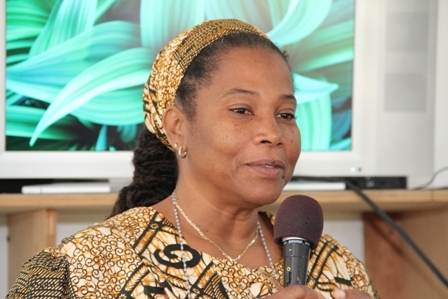 Finding and treating very young children through programmes specifically designed by specialist teachers, nurses, therapists, counsellors and early child care givers will be the basic goal of the project.
"The main thrust of an early intervention programme for children with Autism is the development of social and communication skills supported by occupational and speech therapy. These programmes can provide increased hope for both parents and children.
"Demonstrating the success of these programmes to parents and early child care providers is an essential aspect of this project. Parental understanding and participation can determine the success of these programmes which is why the project seeks to empower parents to help their own child," she said.
Mrs. Clarke further stated that a fundamental feature of the project was its ability to pull together Ministry Departments and encourage them to think and operate in a collaborative way. It also strengthened systems of communication between departments, pooled expertise and maximized limited resources through the creation of a multi-professional team.
She said each member of the team would be able to see the child and the challenges they faced from their own unique vantage point, discuss it with others and collaboratively design programmes tailor-made for each child.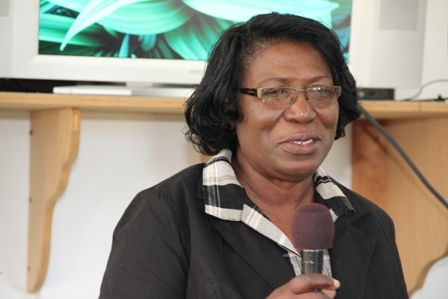 According to Mrs. Clarke, Autism affected 1 in 150 children and was characterised by difficulties in language, communication skills and the ability to relate to others. It was also shown to have a strong hereditary factor which meant that children with siblings with the disorder were at higher risk of developing the disorder themselves.
She expressed that children with Autism had experienced great difficulty with the education system on St. Kitts and Nevis.
"They have no obvious physical disabilities yet display emotional and behavioural challenges many teachers find difficult to understand. Their behaviour can be viewed as disruptive and disobedient resulting in these children being left out of the learning experience.
"Their abilities can be so diverse that children can range from being mentally challenged to gifted, from non verbal to articulate with many specific behaviours in between. This project recognises the complexity of this group of children and seeks to increase their educational opportunities by teaching proven intervention techniques to those who come into contact with them," Mrs. Clarke explained.
Children with (ASD) and other related developmental disorders were a growing concern within the Federation, the Special Education Unit Head noted but pointed out that early intervention was a well documented advantage.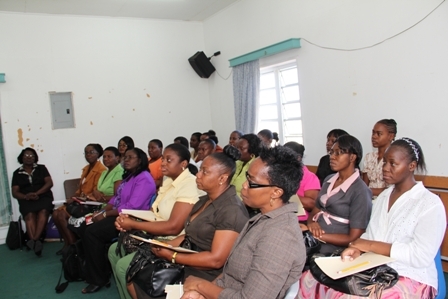 "The National Institute of Mental Health has reported that many children with Autism Spectrum Disorders can be diagnosed soon after their first birthday. Others with the disorder may appear to develop normally until that age and then falter or regress during their second year.
"Early screening is a critical step in assisting children with Autism. Time is of the essence for these children and clinical studies have proven that the earlier the diagnosis is made, the greater the potential for successful intervention and effective behavioural adjustment," she said.
Other remarks came from Education Officer for Special Education Ministry of Education St. Kitts Ms. Clarice Cotton and Dr. Lucy Liddie UNESCO Consultant for the project.
Other presenters for the workshop were Ms. June Wallace, Ms. Judy Gumbs, Ms J. Claxton-Richardson and Ms. Charmaine Blanchette.