US based organisation gives over $16,000 in medical supplies to Senior Citizens Home in Nevis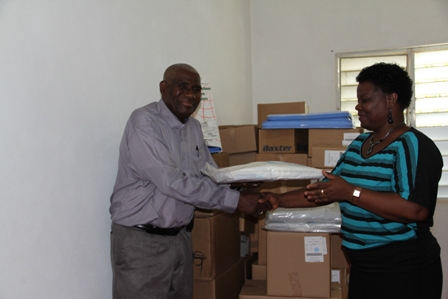 NIA CHARLESTOWN NEVIS (SEPTEMBER 10, 2012) —
Hospital Sisters Mission in Springfield, Illinois, a charitable organisation in the USA donated more medical supplies to Nevis through the Development Projects Foundation, a local non profit organisation. This time the estimated EC$16,876.90 gift was presented to the St. Georges and St. Johns Senior Citizens Home in Gingerland.
During a brief handing over ceremony at the Home on September 7th 2012, Director of the Foundation Mrs Myrthlyn Parry told Chairman of the Home's Board of Directors Reverend Cannon Dr. Alson Percival that her organisation was pleased that the US based Organisation had responded positively to their request on behalf of the Senior's Home
"The total cost of the supplies, handling and shipment fees are estimated at around EC$16,876.90. We thank the Hospital Sisters for once again coming to our aid.
"On behalf of the Development Projects Foundation therefore, I take this privilege in handing the supplies over to Dr. Percival hoping that they would be of the greatest assistance to the residents of the home," she said.
In response an elated Reverend Percival said the donation was a welcome one and thanked Mrs. Parry, her Organisation and the donors for their timely gift.
"I approached Mrs. Parry to find out if anything can be done from the Development Projects and she said certainly she would try and see what she could do. Then eventually she called and said she has a source and she is going to tap the source. After that she called and said the source is favourable to our request and then she said yes we are going to get the stuff.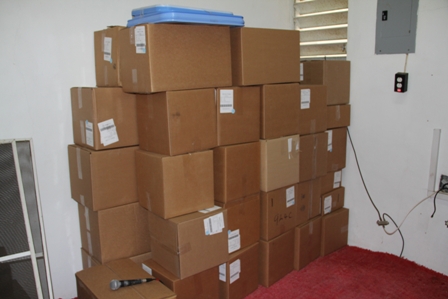 "Today we are here to accept the stuff that came in and I am very grateful for the work that has been done by Mrs. Parry and her staff to beg overseas for us. She didn't have to do it but of course she did using her good office knowing that she is from Gingerland as well and she has her people at heart," he said.
Reverend Percival added that though assistance for the Seniors Home was hard to come by, they received $2,500 a monthly stipend from the Nevis Island Administration to help with expenses.
Notwithstanding, he used the opportunity to place another request for beds which he explained the church run institution was in need of.
"I am begging now for some beds, so if we can get some of those I will be grateful. This place began in 1994. Construction began in July 93 we ended in February 94, we opened June 1st 1994 and since then it is the same beds we are using.
"We had a few donated to us the other day, just about four otherwise than that we have the old ones still. So anything that can be done in that direction we would be most grateful. Again, from the bottom of our hearts, my dear, and also, may the grace of God bless you and your staff and may you continue to do well. Remember scripture says 'when you give to the poor you lend to the Lord' and that is the blessing we get," he said.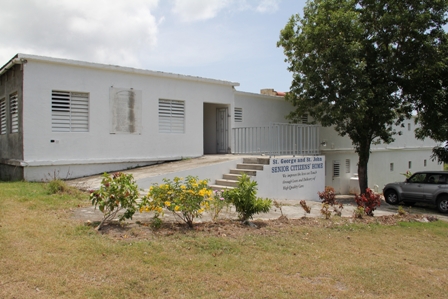 According to Reverend Percival, service to the seniors of the St. George and St. Johns Parish began even before the decision to erect a building. He stated that they had taken pride in caring for seniors in and out of Gingerland as part of the Church's outreach programme.
However, it was not long before the decision to construct a facility to care for the seniors under one roof and construction began on the existing site with $6,000 and later they received $50,000 funding through the Canadian International Development Agency (CIDA). Today, he said the facility was valued at $6million and cited the vestry and congregations of St. Georges and St. John were proud they had ventured into such a project.
Notwithstanding, Reverend Percival said it had been a financial uphill battle since it was felt then that the facility would deal with many more residents who were agile and mobile and could assist but over time ended up with more residents who the Home had to assist look after themselves.
"So it is what you call a total care that we are giving and the relatives would come, bring their families and after they bring them that is it, most of them do not return. They would leave them and we have to do everything for them. The relatives have to pay $1,200. and we are the cheapest around anywhere…
"Nonetheless, it is a church and the people have given to the church and are still giving. Those who have given they have served and so we are now serving them. That is the intention. So if we have to take church funds which we are doing to augment what is going on there in order to pay the staff and also to keep the residents in the present day conditions and healthy then it means that we are doing a good job," he said.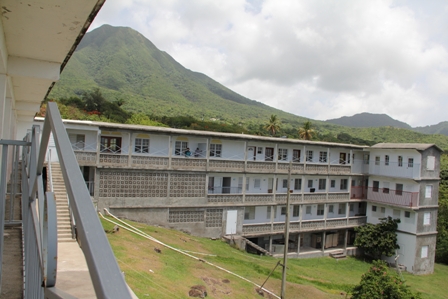 Reverend Percival said there were times that things got very difficult and had to resort to begging for certain needed supplies from the Alexandra Hospital and elsewhere also raising funds to supplement whatever little they receive.
"Cash is not easy to come by and at times we do not have certain supplies that we need. We have the nurses, we have the nurses aid, domestic helpers and so on and we have to pay all those. When you take that out, then no money is left then we have to buy food pay electricity and water, the whole works.
"At times we went to beg at the hospital for a little of this and beg here for a little of this and they give us but they couldn't give us a quantum… When you see us on the road raising funds we are not raising money for Cannon Percival or his family or any individual we are raising funds for this place," he said.
The Home is run by a Board of Directors and at present houses 13 residents.