Young Jessups Villager calls for positive use of new community centre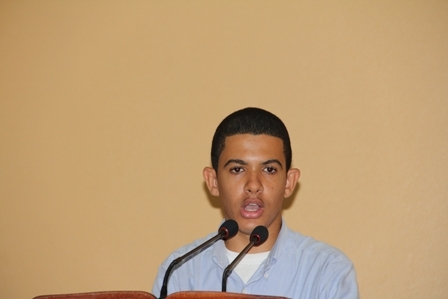 NIA CHARLESTOWN NEVIS (March 01, 2012) —
A young Jessups Villager who attends the Charlestown Secondary School (CSS), said it was up to his community to ensure that the new Jessups Community Centre would be used in positive ways that would maximise benefits to them.
Those words of wisdom came from Mr. Kaige Williams as he gave his perspective of the state of the art Centre which will also be used as a hurricane shelter, while he thanked the Nevis Island Administration at the official opening of the new $1.3million dollar facility in his home village on February 27, 2012.
"We have to ensure that this facility is used in a positive and efficient manner in my view a number of benefits can be derived providing this facility is utilised efficiently.
"These benefits include but are not limited to the following: Homework programmes where teachers and other adults in the community can volunteer an hour or two of their time to help us school children with our homework; Adult Education programmes can be implemented. We can see the introduction of classes such as English, Mathematics, Accounts and Information Technology that would enable adults to achieve such subjects at the Caribbean Examination Council level," he said.
Williams also pointed to the introduction of Skills Training workshops for young adults in the community which he said would eventually take them off the streets and into the job market.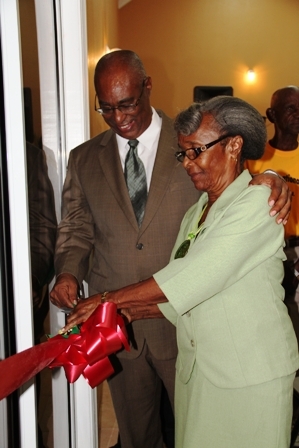 The introduction of a Mentorship programme for young persons would prevent them engaging in anti social behaviour Williams contended and also called for an occasional movie night and neighbourhood watch meetings.
"We can do a movie night the last Saturday of each month because this will bring the people of the community closer together and a Neighbourhood Watch community meeting can also be implemented with the community centre as the base headquarters where the meeting can be held," he said.
The young "Jessupian" thanked the Nevis Island Administration and urges his fellow villagers to take pride in the facility and that they should guard it jealously.
"The Government has done its part by constructing this facility for us, it is for us to understand now, that this facility belongs to each and every one of us therefore we must all keep a watchful eye to ensure that it is well kept and to report any vandalism which we might see," he said.
Mr. Williams also spoke of the new Community Centre's ideal location which he said was central to the village.
"This spectacular facility is ideally located in the center of the village it is close to everyone but of course it is closer to some than others but for me it is practically in my backyard.
"Nobody would have to drive to come to the community centre. It is in walking range for everyone because it is located in the middle of the village," he pointed out.
The young but knowledgeable Jessups Villager also made mention of the dollar value the new facility brought to his village.
"I am quite certain that everyone here who understand the value of property from a real estate point of view [will know that] this spectacular facility enhances our community overall. For example, prior to the construction of this facility, the property next door valued at $50,000 but now it may be valued at $100, 000," he said.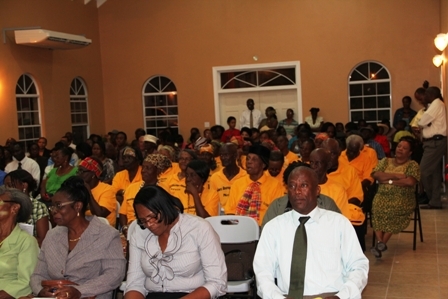 Before he concluded his remarks, Mr. Williams showered praise on the NIA in particular Premier and Area Representative Hon. Joseph Parry who brought his people the first ever community centre. Cabinet Secretary Mr. Ashley Farrell, a fellow villager, he thanked for keeping a keen eye on his progress at school over the years.
"I like Mr. Ashley Farrell a lot because he has always shown an interest in my education. Whenever he meets me he always asks me how I am doing in school and I shared this with my mother, only to find out that he also asks her about my school work.
"I like this a lot and I would like more people to be like Mr. Ashley Farrell to ask us school children about our work because as small as it may sound, it is a big encouragement to me when he asks me about my school work," he said.
The young Jessups lad did not leave the podium before he received a thunderous applause from his fellow villagers, Members of the NIA, invited guests and well wishers who were present at the function.