Bath Villager on Nevis grateful for assistance from the Poverty Alleviation Programme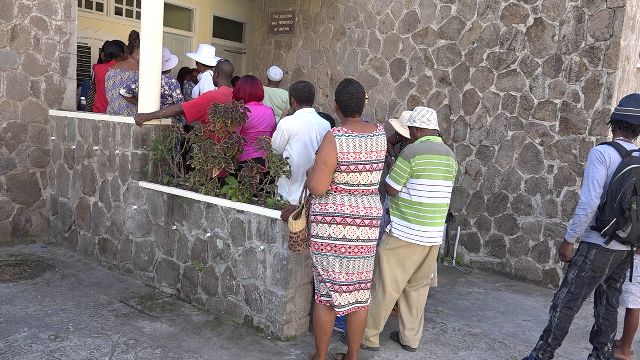 NIA CHARLESTOWN NEVIS (December 28, 2018) — One of the more than 600 persons on Nevis to benefit from the Federal government's Poverty Alleviation Programme expressed gratitude for the first of its kind initiative.
Ms. Shelly Daniel, an unemployed mother at Bath Village told the Department of Information on December 27, 2018, she is grateful for the assistance.
"I think it's a very good initiative that the government in terms of looking out for its citizens…I am currently not employed. I am at home with my kids and the government cannot basically provide employment for everybody on the island, so in my situation I am very grateful upon getting some assistance, and I am pleased because I was one of the fortunate ones who was considered for the programme," she said.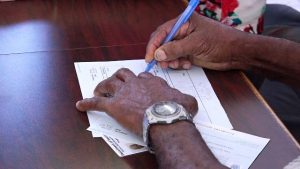 Ms. Daniel noted that the $500 cheque she received on December 24, 2018, when the programme was officially launched would assist her to better provide for her children when school reopens in January.
She is the mother of four children and three sons live with her. They are all of school going age. One is a student of the Nevis Sixth Form College, another is a third form student and the youngest attends primary school.
Ms. Daniel stated that she is aware that the $500 monthly allowance for those in the programme would soon take the form of debit cards, a format she believes would further assist her.
"I read that they would be putting it in the form of debit cards soon, so something like that would help me to monitor my spending as well and would help me to do a lot more. So I am very grateful to the government for that," she said.
The Bath villager also spoke of her experience when she went to pick up her cheque adding that all the other recipients including retirees who were having difficulties meeting their monthly expenses were also pleased.
"I met a lot of folks there when they launched the programme, and they were very pleased. There are a lot of negatives out there but it's all far-fetched; everybody was happy.
"The persons that I mingled with, we all spoke about it and there was no remorse.  Everybody was quite elated to get a bit, I mean where else would you get this done? So we are very grateful. I for one I am grateful," she said.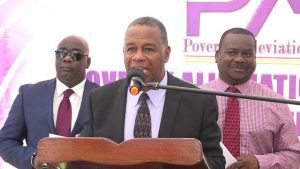 According to statistics from the Ministry of Social Development in the Nevis Island Administration, who is charged with facilitating the programme on Nevis through its Department of Social Services, more than 800 persons applied to be a part of the Poverty Alleviation Programme and more than 600 have so far been successful.
On the first day, more than 200 cheques were disbursed with another disbursement scheduled for December 28, 2018.
Meantime, Hon. Eric Evelyn, Minister of Social Development on Nevis told the Department of Information on December 27, 2018, that recipients have expressed appreciation.
"People have been extremely appreciative and very thankful to the administration of its generosity and many persons have said this is the best Christmas they have seen.
"As a matter of fact some persons have actually said they are thankful for the cheque but they will change it in January which is normally a hard month but generally persons who have spoken to me I have seen a glow on their faces after they would have collected their cheques and they are exuding with happiness," he said.
Mr. Evelyn described the programme's launch, which was done simultaneously in Nevis and St. Kitts, as an historic day for the island, the Federation and himself as a minister. He commended the National Unity government for the initiative.
The Social Development Minister explained that the initiative is aimed at eradicating poverty in keeping with the United Nations Sustainable Development Goals (SDG).
"This programme is aimed at assisting persons in the Federation who are less fortunate, and that is why the Social Services Department and Ministry [of Social Development] on Nevis has been charged with this responsibility.
"Of course you would have heard about the Sustainable Development Goals which were launched in 2015 in New York, and this particular programme is aimed at ensuring that we attain Goals 1, 2 and 10, which is No Poverty; Zero Hunger and Reduced Inequalities," he said.