Nevis Minister Evelyn responsible for seniors and youth urges CPS students to learn from, love and respect seniors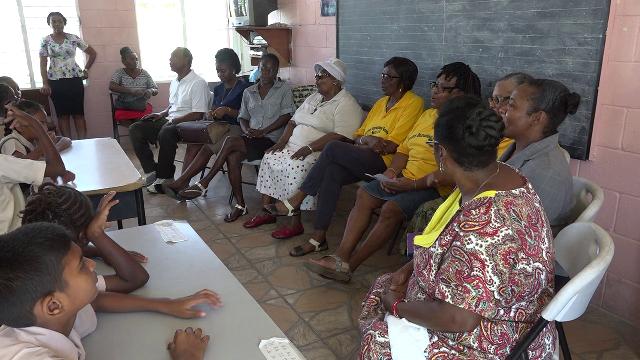 NIA CHARLESTOWN NEVIS (October 24, 2018) — Hon. Eric Evelyn, Minister responsible for the seniors and youth on Nevis, encouraged Grade 4 students at the Charlestown Primary School (CPS) to learn from the seniors, love them and be respectful to them.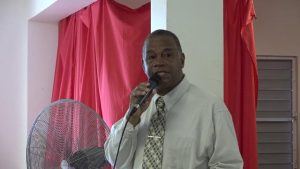 Mr. Evelyn spoke to the students at the start of an Intergenerational Exchange exercise on October 23, 2018, an activity hosted by the Ministry of Social Development through the Seniors Division during the month-long celebration of the island's elders with the theme
"Celebrating Older Human Rights Champions."
"We must also show them love and respect because we need to learn from each other, and that is why the seniors are here today. They are here to learn something from you, and you would learn something from them.
"There is so much that you can learn from the seniors in terms of respect, in terms of love, in terms of what used to go on in their days growing up and they can learn from you. So it's a two-way exchange," he said.
The minister reminded the students that they would grow old one day and would want the same love and respect extended to them.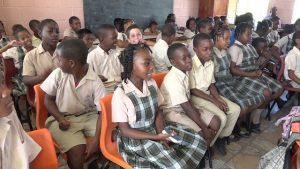 He also urged them to help the seniors whenever the opportunity to do so presented itself.
"When you see our senior citizens on the road, if they need a little helping hand, you help. If they need you to talk to them, you talk. If they need somebody to lift up their bag from the grocery, do that, because remember, one of these days you will get to this stage, and…you would want the love and respect from persons who are at the primary school level and high school level," he said.
Mr. Evelyn used the opportunity to remind the students of the senior's sterling contribution to the development of a modern Nevis which they all enjoy. He said it was another reason why the seniors and the younger persons should continue to dialogue, to live and love in their small island of Nevis.